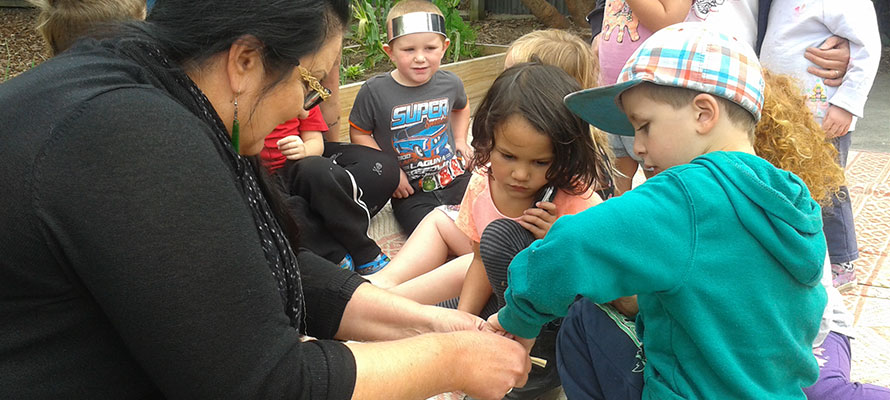 Kidsfirst really wouldn't be the same without our supportive network of parents, siblings and extended families like aunties, uncles, cousins and grandparents and the community connections that are so deeply embedded in the kindergarten philosophy.

ABOVE: Flax weaving at Kidsfirst Aranui Early Learning Centre.
OUR TOP STORIES:

You may have seen the adverts on the bus shelters, the smiling Kidsfirst silhouettes on mall doors around Christchurch, or the colourful 'We Are Whānau' bus backs trundling around the streets of your suburb. This term, we're all about whānau at Kidsfirst Kindergartens.

At Kidsfirst Kindergartens and Early Learning Centres across Canterbury and Westland, the connection with whānau is everything: "We really couldn't function without it," says Sandy Laffey, Head Teacher at Kidsfirst Cashmere.

As a staff member of Kidsfirst for over 40 years, Sandy has taught and still knows the children of children that went to Kidsfirst Cashmere.

"Whānau is the foundation that kindergarten is built on. Often children will return after they have left kindergarten, or even left school, to say hello to us. If we didn't maintain those relationships, we wouldn't still be here."

Kidsfirst Wigram, Kidsfirst Hillmorton and Kidsfirst Queenspark take the time to translate learning stories, events, and the Early Childhood National Curriculum (Te Whāriki) at their kindergarten into other languages, for children whose parents may not speak English as a native language.

ABOVE: Kidsfirst Wigram's wall displays, showing many different languages and lots of photos for parents.

"To bring parents in, help them feel welcome and encourage them to share, everyone needs to feel included. We always encourage whānau to stay, and to offer their gifts and talents wherever possible," says Jo Stewart, Head Teacher at Kidsfirst Queenspark.

The children there have been fortunate enough to have parents taking group story time, teaching dance, bringing their baking skills in, and sharing cuisines for lunch such as Fijian-Indian and Japanese.

"One parent is much more proficient at Māori pronunciation than us, so we often get her help with the bicultural elements of our programme," says Jo.

Sophie Thompson, Head Teacher at Kidsfirst Woolley Street, says, "The whakatauki (proverb) 'He tangata, He tangata, He tangata' (the people, the people, the people) best encompasses what we are trying to build upon at Kidsfirst Woolley Street."

"Our whānau are at the heart of our kindergarten and to create a true socio-cultural community, we want to start with building respectful and reciprocal relationships with one another first."

When the kindergarten had an influx of new children and staff members, the teaching team asked each child's family to help them make an 'All About Me' poster on an A3 piece of paper, depicting the most important things to each child. Each poster returned, full of things each child loved, including photos, drawings, and even 3D objects of food and toys.

ABOVE: Kidsfirst Woolley Street's 'All About Me' posters.

"We also provide a visual fortnightly newsletter to ensure we were engaging our family members to the fullest. It especially helps those of our whānau that aren't able to visit kindergarten due to work and other commitments, or simply because they live far away."

Whilst whānau participation is strongly valued at each Kidsfirst Kindergarten and Early Learning Centre, every teacher is quick to reiterate that parents helping where and when they can is the most important part.

"We don't want anyone to get burnt-out or feel unappreciated. At Kidsfirst, we meet parents where they are at, and help whānau to find ways to give back to kindy that everyone can benefit from. That's when all the fun happens!" says Head Teacher of Kidsfirst Portsmouth Street, Linda Roper.

At Kidsfirst Portsmouth Street, the teachers have pioneered a flax-weaving programme especially for parents. Anyone can come and sit with the Kidsfirst Māori advisors, Huhana Carter and Cath Milio, as the two of them explain what the patterns mean, and help parents understand the etiquette behind the weaving.

ABOVE: Flax weaving at Kidsfirst Portsmouth Street.

"We incorporate kai as part of the hospitality of the afternoon, and it's a safe space for whānau to come, relax, be creative and learn a new skill. We couldn't be prouder of the parents getting involved, and the positive impact on our children because of Cath and Huhana. Their presence has been amazing," says Linda.

Many kindergartens across the network have parent committee groups who help with fundraising and organising events, such as trikeathons or family fun evenings with magicians, discos or fish and chips. Sometimes it's as simple as arriving five minutes earlier to help teachers with the tidy-up after a busy day.




ABOVE: Kidsfirst Nuffield's fish and chip evening to welcome new families to the kindergarten in 2015.

Have a chat to teachers at your child's kindergarten if you would like to lend a hand – because whānau is really what it's all about.

ABOVE: Flax weaving at Kidsfirst Aranui Early Learning Centre.

QUICK READ

Every day, Kidsfirst remains the incredible, unique early learning experience that it is, because of the communities and whānau that support us.

Peppered through these online newsletter articles, you'll see the influence that families have on their kindergartens, and how important that relationship is for children's learning.

from the teachers:

It is fantastic how many parents at Kidsfirst Parklands contribute to their child's learning by being a part of our kindergarten programme.

Parents have much to offer in extending their knowledge, interests and culture with our children. Sharing their skills promotes a much richer environment for the children to learn in.

It is another way for the teachers to get to know our families and learn what is important to continue and extend the learning for the children.

Sharing knowledge means we have:

A canoe on which everyone may embark - he waka eke noa.

- Cindy Snelson, Head Teacher at Kidsfirst Parklands
KIDSFIRST KINDERGARTENS ARE A NOT FOR PROFIT ASSOCIATION THAT HAS DEVELOPED AND MAINTAINED KINDERGARTENS IN CHRISTCHURCH, CANTERBURY AND ON THE WEST COAST FOR OVER 100 YEARS - AS THE PLACE LOCAL KIDS COME TO LEARN, PLAY AND HAVE FUN.