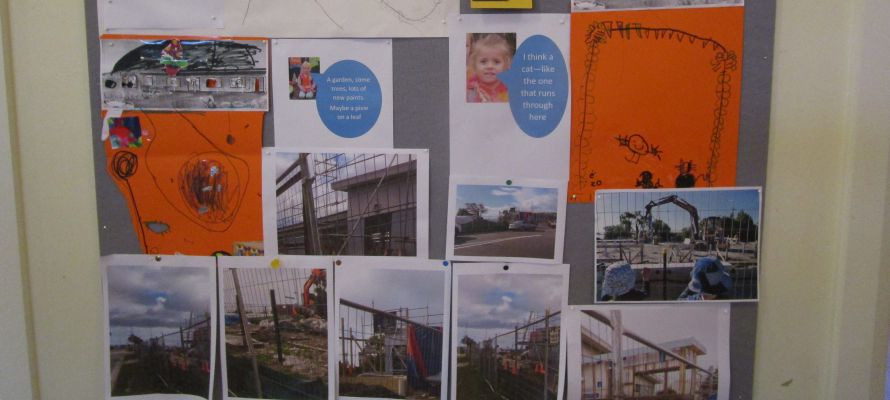 Moving to Kidsfirst The Bays
Before any big move it's natural to wonder what it's going to be like. That was the case with the children at Mt Pleasant kindergarten as they prepared to move to their brand new purpose-built kindergarten, Kidsfirst The Bays.

FIND OUT WHY WE'RE JUST BETTER BECAUSE...

"A garden, some trees, lots of new paints and maybe a pixie on a leaf!" Is what one child imagined they might see at the brand new Kidsfirst Kindergartens The Bays once it opened it doors to families at the start of term three.

The Mt Pleasant kindergarten community, have operated out of a local church hall since 2011, and were excited to be counting down the days until their move to the new purpose-built kindergarten.

The teaching team helped prepare children for the transition by including them in the planning. There was lots to organise – what to take, how to pack it, what goes on the label? And lots of wondering....

When Teachers asked the tamariki,

"What they would like to see at their new kindergarten?"

There were some great answers.

"Tamariki have imagined their new kindy home and thought about their place in it," says Head Teacher, Liza Hewison. "It's helped us to create a sense of ownership for the children and their families."

One child said they'd like to see a cat, "like the one that runs through here." Another hoped to take bird seed along to the new kindy, "And get a bird house outside to put the bird feed on."

"We'll definitely need a fairy pond," says another. "With a waterfall and some rocks. My Dad can get rocks. It needs to be round not square." We wonder if this means the shape of the pond or the rocks?

Liza continued, "Oh, and a wonderful group of parents fundraised for resources and equipment. They were just as excited as the children about moving to The Bays and having a brand new kindergarten space to call their own."

Kidsfirst The Bays teaching team Lisa Fleming, Kimberley Kilday and Liza Hewson on a site visit.

Kidsfirst The Bays, was specifically designed for its coastal location with the changing needs and values of 21st century young learners in mind. It's situated right next door to the Mt Pleasant Community Centre on McCormacks Bay Reserve, catering to young families in Mt Pleasant, Redcliffs and the surrounding areas.

With stunning views across the estuary, a large, tree-filled back yard and state of the art playground it's a fantastic addition to the already 70 plus kindergartens in the Kidsfirst family spanning Canterbury, Banks Peninsula, the West Coast and Central Otago.

It will offer 30 free hours per week for children aged 2-5 (some conditions apply) will remain open through term breaks and has space available for up to forty children.

Read more here about the design plans for Kidsfirst The Bays.

.

Kidsfirst Kindergartens
Head Office, 43 Birmingham Drive, Middleton, Christchurch 8024
+64 3 338 1303 email: questions@kidsfirst.org.nz
Postal Details: Kidsfirst Kindergartens, PO Box 8089, Christchurch 8440
KIDSFIRST KINDERGARTENS ARE A NOT FOR PROFIT ASSOCIATION WITH OVER 70 KINDERGARTENS AND EARLY LEARNING CENTRES COVERING CHRISTCHURCH, CANTERBURY, CENTRAL OTAGO, BANKS PENINSULA AND THE WEST COAST - AND HAS DONE SO FOR OVER 100 YEARS
- AS THE PLACE LOCAL KIDS COME TO LEARN, PLAY AND HAVE FUN.