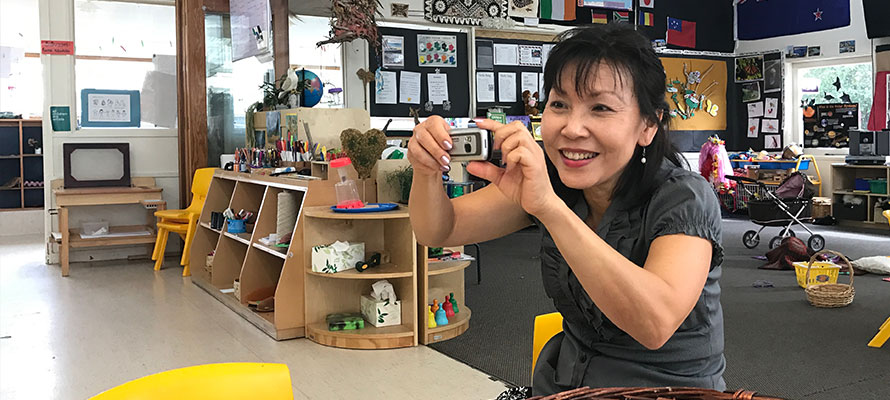 | | | |
| --- | --- | --- |
| | Everyone wants to take great photos, but sometimes we're not as satisfied as we might be with the results when we look back on our shots. Here are some helpful hints... | |
SOME OF OUR TOP STORIES


Kidsfirst kindergarten Teacher, Peter Fleming has taken hundreds of photos in our kindergartens over the years and he has some advice.

GET CLOSER
Don't stand too far back from the action. Getting into where the activity is, or showing the expression on a face, is much more powerful. Yes, sometimes we want 'the big picture' and the overall scene - but often the best images are the more intimate ones that focus your attention without a lot of extraneous background.


TAKE LOTS OF IMAGES
In the old days, when photography was relatively expensive, people would take carefully composed images and get a print of the good photographs. Every shot cost money for film and processing and printing.


Today's digital environment means taking two or three or ten shots of the same thing doesn't cost any more. Then you can delete all but the best one.


A professional photographer will rarely just take one shot of a set up, but many - because the changes of getting a good expression increase with the number of shots you take. Remember those shots where people are blinking or their mouth looks funny because they said something just when you clicked the shutter? If you take multiple shots, the risk of getting un-usable or unattractive images decreases.


But do delete the bad or repetitious shots, because the world doesn't need them all. Edit your choices after you take them.


MOVE AROUND
When you're taking photos, move around. If you stand in the same spot, at the same height, all your images will look the same.


Vary the height - taking photos of tamariki often means getting down to their level, or even lower, and shooting from there.
Perhaps an overhead view is a novel perspective.


And once you've taken your photographs from one side, try going to the other side and capture the action from there. Different angles give you different results.


KEEP STILL WHEN YOU'RE TAKING THE PHOTO
People sometimes jump when they "Push the button" or take images while moving. Often these end up blurry.


A professional photographer's trick is to breath out as you snap the shot.
Exhale and click - and you won't get a sudden jolt that ruins your photo.

REMEMBER WHAT YOU'RE PHOTOGRAPHING
Concentrate your image around the subject. Granted, the tree in the background off to the side might look fabulous, but if it's not part of the story you're trying to tell with the image, leave it out.


Get closer and show what you want people to see.


DON'T LINE PEOPLE UP AGAINST A WALL AND SHOOT THEM.
Overly posed shots with a line of shoulder to shoulder victims with stunned expressions on their faces never looks good. Try more natural or relaxed groupings. Again, if you take multiple shots, people relax as you go and you're less likely to get those 'deer in the headlights' looks.


Perhaps an informal shot would look better than a posed one?


DON'T FORGET TO KEEP YOUR BEST SHOTS.
Especially important is keeping your photos. In this digital age, it's very easy to think of them as being everywhere, only to discover that in a year's time, or five year's time, you can't find any because they've been lost or deleted.


It's easy to keep your best pictures. And, as long as you don't save everything, it needn't take up too much space. What a great record of our time!
Information including that about fees, services and promotional activities were correct at the date of publication of news stories but may since have changed. Please check with us to ensure information is current.