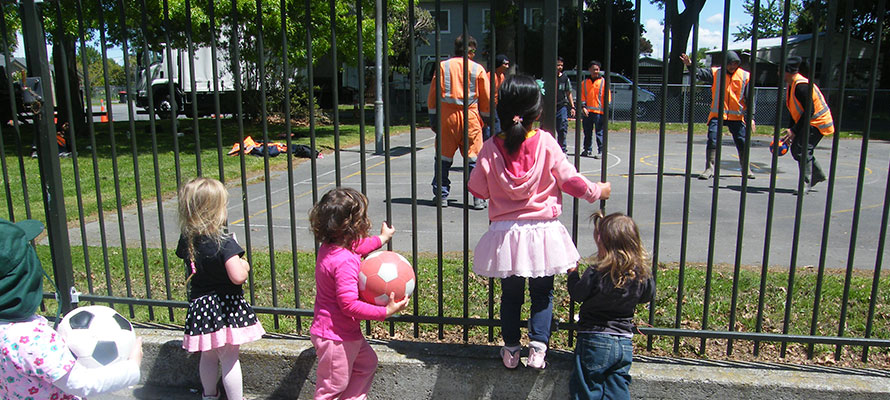 | | | |
| --- | --- | --- |
| | The thwack of a bouncing ball, the swift shuffle of feet and the happy sound of carefree chatter and laughter…just what was that happening over the kindergarten fence? Some slam, dunk fun that's what! | |
SOME OF OUR TOP STORIES

It's amazing what inspires children to try something new at kindergarten.

Kidsfirst MacFarlane Park children watched, intrigued, as a group of tradesmen spent their lunch break having fun in the sun playing basketball.

Seeing all the energetic action inspired tamariki to want to shoot some hoops of their own.

Setting up the kindergarten basketball equipment on the courtyard by the fence, everyone was keen to have a go and follow what the basketball players were doing.

The basketballers were simply blowing off some steam and having a ball on a nice day but the children were abuzz to see a group of grown ups playing such a lively game and having a laugh together.

"They were such positive role models for our children," says Head Teacher, Pat Williams, "enjoying themselves, participating as a team and showing camaraderie."

Tamariki liked the idea of trying to score a goal and were ready to show off their best moves - perhaps a close-up two-pointer or even a three-pointer lobbed from a distance? Some managed to score a few amazing shots, while others were happy to practice bouncing or running with the ball.

Although the workers were there to install new cables in the street, initially children thought they could be there fixing things after the latest earthquake. Many had felt the big 7.8 magnitude Kaikoura shake that started many kindergarten families talking about and remembering the effects of the Christchurch earthquakes again.

"The workers were not from New Zealand and did not speak much English but we talked and found out they were here to help as part of ongoing Christchurch earthquake repairs," says Pat. "We decided we would make some muffins to show our appreciation."

The next day, the workmen were surprised and delighted to be delivered a fresh batch of muffins over the fence at lunch time. After they exchanged a big "thank you" with the children's "you're welcome" – it was back into another action packed game of basketball.

Motivational quote from Basketball legend Michael Jordan:

Obstacles don't have to stop you. If you run into a wall, don't turn around and give up. Figure out how to climb it, go through it, or work around it.
Information including that about fees, services and promotional activities were correct at the date of publication of news stories but may since have changed. Please check with us to ensure information is current.