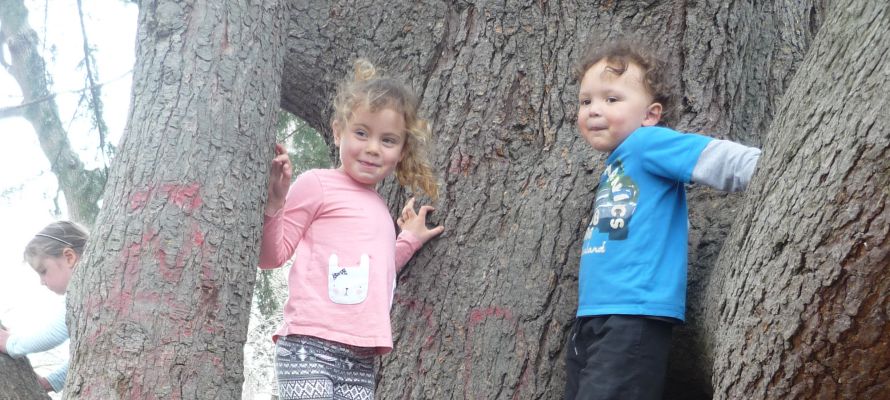 | | | |
| --- | --- | --- |
| | Kidsfirst Kaiapoi North kindergarten is located on the edge of a beautiful, leafy tree-filled Domain, providing tamariki with lots of opportunities for discovery, wonderment and awe... | |
SOME OF OUR TOP STORIES

"Our next door neighbours are trees and there's a whole community of them out there," says Kidsfirst Kaiapoi North Head Teacher, Ally Exton.

"Everyday we notice our surrounding trees. Either inside looking out or from the playground, we see trees in every direction and we've loved getting to know all of their many different characteristics."

From spring's pink blossom to the fresh shades of green in summer to autumn golds and the stark bare branches of winter, the trees are continuously wearing new cloaks.

Through all of the changing seasons children love venturing out beyond the kindergarten gate to play at the foot of a favourite, tree climb on sturdy branches, stomp in crunchy leaves or wonder at new growth.

"Our trees have big personalities and have become a really important part of our kindergarten community," says Ally.

"There's a magical fairy tree, that inspires all sorts of imaginative play. A climbing tree. Also a monkey puzzle tree - that tamariki call the 'monkey tail' tree."

"To our children the little numbered signs tacked onto different tree trunks have become the imaginary 'letterboxes' for the many butterflies, insects or other little creatures that may have taken up residence in the branches."

Tamariki helped to plant a new Atlantic cedar in the Domain too, each taking turns to shovel a mound of good earth around its roots saying, "live long, grow strong."

The tree-planting was to celebrate the milestone return of a section of the Kaiapoi Domain that had been repurposed as temporary village accommodation for earthquake affected residents, while their homes were repaired or rebuilt.

The returned block of land - right next door to the kindergarten - with its fresh, newly laid grass can now be enjoyed again for recreation or different community events.

"We're looking forward to running around and playing all sorts of games like softball, football and cricket there," says Ally. "As well as picnics and Friday afternoon ice blocks or kite flying in the summer."

In the spirit of kaitiakitanga (looking after the environment), tamariki gathered up leaves from the kindergarten playground to place as mulch around their newly planted Atlantic Cedar – and enthusiastically heaped the pile a third of the way up the tree!

What a wonderful community of neighbouring trees to love, nuture and enjoy Kidsfirst Kaiaipoi North!
Information including that about fees, services and promotional activities were correct at the date of publication of news stories but may since have changed. Please check with us to ensure information is current.