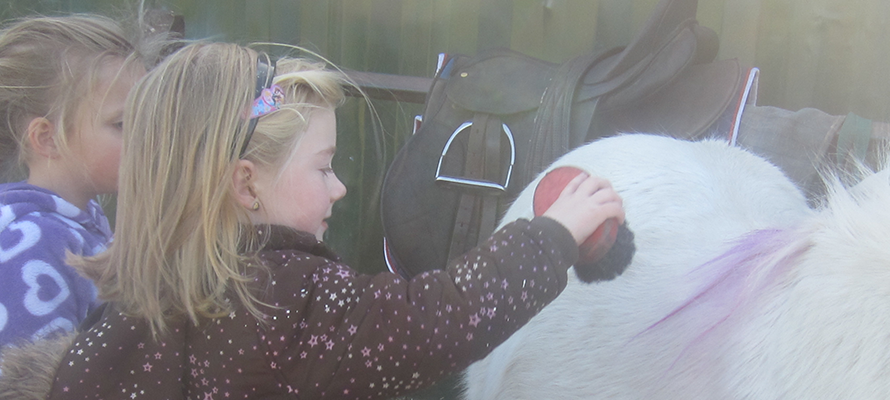 | | | |
| --- | --- | --- |
| | | Kidsfirst Hornby and Kidsfirst Wigram head to a local farm, to learn all about the animals there... |
OUR TOP STORIES:

At Kidsfirst every experience is an opportunity to learn something new.

So when Farmer Bronwyn offered up her local farm to teach the children about living the country life, Kidsfirst Hornby and Kidsfirst Wigram jumped at the chance.

The joint effort of Louise Hoggart, Head Teacher at Kidsfirst Hornby and Felicity Jenkins, Head Teacher at Kidsfirst Wigram, helped make this a memorable new adventure for all of the children.

They can enjoy many learning opportunities, like giving Farmer Bronwyn a helping hand to feed the animals, give them water and clean their cages. Also, how to take special care of certain animals as the season's change - such as brushing the pony's moulting winter coat. Afterwards, there's the chance for a pony ride, or other fun activities that Farmer Bronwyn has arranged.

Louise and Felicity agree, "What a wonderful opportunity the farm visits have been for children to experience first-hand, life beyond the kindergarten - supporting their development of positive attitudes towards nature and becoming kaitiakitanga (guardians) of our earth."

Raewyn Penman, ESM for both Kidsfirst Hornby and Wigram can see the benefits of these shared excursions for the teachers, children and families.

"This venture has provided a way for teachers to support each other, for children to widen their network of friends and for parents to meet others from the neighbourhood while sharing interactive learning experiences," says Raewyn.

QUICK READ

The children at Kidfirst Hornby and Wigram kindergartens have been enjoying the sunshine and fresh air on their recent shared visits to the local farm.
KIDSFIRST KINDERGARTENS ARE A NOT FOR PROFIT ASSOCIATION THAT HAS DEVELOPED AND MAINTAINED KINDERGARTENS IN CHRISTCHURCH, CANTERBURY AND ON THE WEST COAST FOR OVER 100 YEARS - AS THE PLACE LOCAL KIDS COME TO LEARN, PLAY AND HAVE FUN.