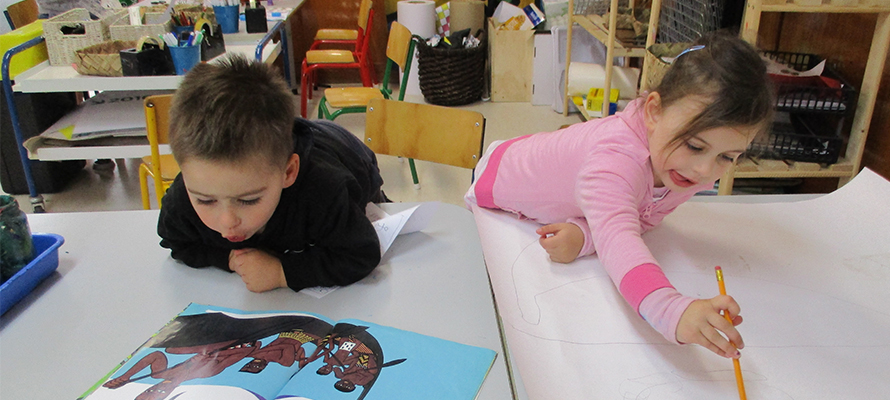 Te Ika A Māui
Our bicultural heritage is important to us and explored through the many unique ways our kindergartens and early learning centres weave Te Ao Maori/the Māori World into learning. Kidsfirst Wales Street tamariki explored the Māori legends of Te Ika A Māui with painted murals.

FIND OUT WHY WE'RE JUST BETTER BECAUSE...

"Maui is like a super hero here at Kidsfirst Wales Street," says Head Teacher, June King. "Partly due to the many ways tamariki have learnt about him in our programme and through story-telling, art and drama."

They recently created a series of beautifully hand painted panels at kindergarten to tell the story of Te Ika A Maui and how he fished up our land Aotearoa. "We planned, drew and painted our art works together using a book for ideas," says June.

And for Matariki (Māori new year) last winter tamariki acted out the legend of Te Ika A Maui, with the children playing and taking pride and ownership in their different roles.

"Tamariki involvement in the creation of the murals increased their interest level and understanding thereby giving not only the legend of Te Ika A Maui more meaning but Te Reo Maori more meaning too," says June.

The team at Kidsfirst Wales Street were recently inspired by a particular child at kindergarten who is bilingual. Her family shared that their aspiration for their daughter was,

"to be proud of who she is and the gift that has been bestowed upon her, the ability to speak her native tongue."

"Wow, this really inspired us," says June. "And as a teaching team we wanted to have similar aspirations.

Te Reo takes confidence though so we asked ourselves, "how can we grow more confident in our use of the language with all of our kaiako (teachers) tamariki (children) and whānau (families) at kindegarten?"

.

Kidsfirst Kindergartens
Head Office, 43 Birmingham Drive, Middleton, Christchurch 8024
+64 3 338 1303 email: questions@kidsfirst.org.nz
Postal Details: Kidsfirst Kindergartens, PO Box 8089, Christchurch 8440
KIDSFIRST KINDERGARTENS ARE A NOT FOR PROFIT ASSOCIATION WITH OVER 70 KINDERGARTENS AND EARLY LEARNING CENTRES COVERING CHRISTCHURCH, CANTERBURY, CENTRAL OTAGO, BANKS PENINSULA AND THE WEST COAST - AND HAS DONE SO FOR OVER 100 YEARS
- AS THE PLACE LOCAL KIDS COME TO LEARN, PLAY AND HAVE FUN.