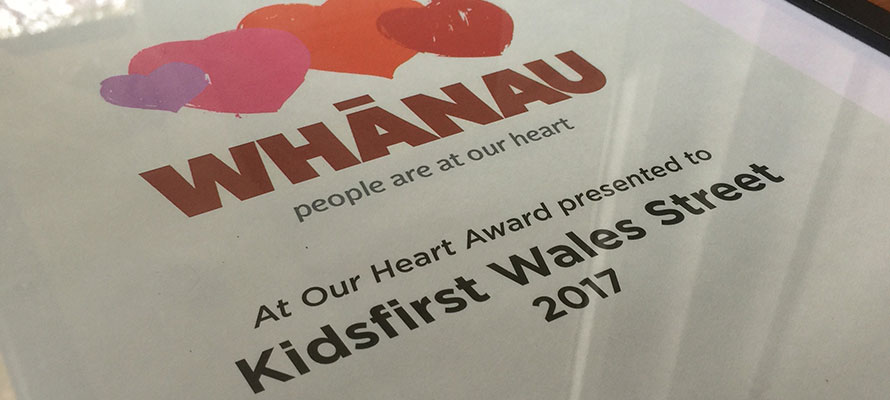 | | | |
| --- | --- | --- |
| | Kidsfirst Kindergartens At Our Heart Awards recognise the kindergartens, early learning centres and individuals who epitomise our core values... | |
SOME OF OUR TOP STORIES

Congratulations to our Whānau Certificate Winner, Kidsfirst Kindergartens Wales Street, recognised in the 2017 At Our Heart Awards, presented at the AGM in May.

Our values are very important to us as an association and we're so proud to be able to celebrate them in this way. Whānau is all about people. It's about making and maintaining connections – because at the core, that's what we're all about.

Strong whānau connections are at the heart of Kidsfirst Wales Street. Whānau share their expertise and skills with teachers and tamariki alike, and are happy to help with community events, such as fundraising, at kindergarten.

The teaching team have explored place-based education within their learning community, and strengthened their sense of whānau, belonging, ownership and responsibility for their 'place' here.

Children and whānau have contributed to this work, including with a learning display of photos children took of favourite places in their local area – and that promoted lots of whānau conversations. Artwork created at kindergarten is meaningful to the community and shows pride in their sense of whānau and whakapapa (genealogy) to this 'place.'

Encouraging connections with morning teas or inviting neighbours for a cuppa are all part of the ongoing events that have a positive impact and enhance whānau engagement at kindergarten - both with each other and the wider community.

Congratulations Kidsfirst Wales Street!

Although we celebrate these values each year with awards and certificates, we know that tamariki, families and communities see the behaviours and commitment associated with our values every day, in so many different ways in all of our wonderful kindergartens across the network. So congratulations and keep doing what you're doing so well.
Information including that about fees, services and promotional activities were correct at the date of publication of news stories but may since have changed. Please check with us to ensure information is current.