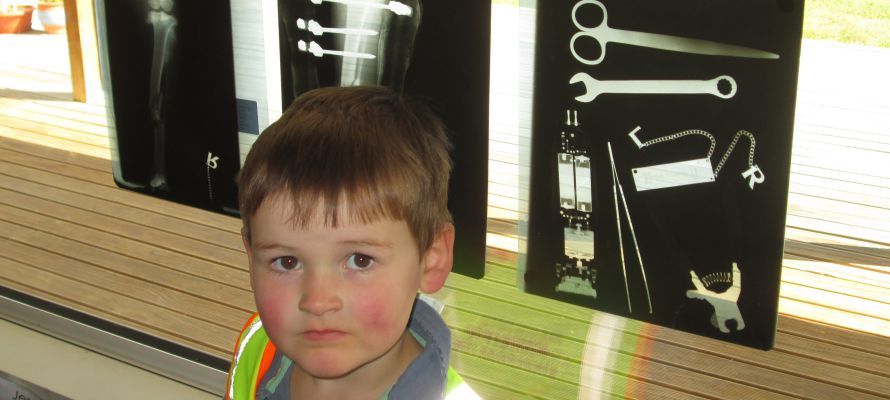 | | | |
| --- | --- | --- |
| | Welcoming visiting experts to kindergarten is one of the ways we celebrate our connections with the wider community... | |
SOME OF OUR TOP STORIES

We especially welcome input from our kindergarten whānau and families.

Michael Lilley, Blue Cross veterinarian and Dad to Louis brought some x-rays to Kidsfirst Maniototo, for tamariki to look at.

"One x-ray showed a break in a dog's leg bone and another the same leg after it had been fixed with metal pins," says Head Teacher, Deb McNally. "A third x-ray showed a variety of utensils from the vet clinic."

Michael also brought along the same utensils for children to identify in the x-ray. Louis was proud to have his Dad at kindergarten, "I'm going to be a vet (and a fireman) when I grow up and do all Dad's work fixing animals."

The children were intrigued with the x-rays and showed their learning and understanding with comments like:

"X-rays show your bones in case there is a broken one." – Jess.

"The vet looks after sore cats," - Charlie.

"He showed us the fixing things and the scissors," – Isla

"The vet looks after the animals when they are sick on my farm," - Sam.

Briar had a great question to ask about x-rays, "Is that what's inside MY body?"

"We wish to extend a big thank you to Michael for taking the time to come to kindergarten to share his knowledge and resources with our children," says Deb.

Kidsfirst Kindergartens
Head Office, 43 Birmingham Drive, Middleton, Christchurch 8024
+64 3 338 1303email: questions@kidsfirst.org.nz
Postal Details: Kidsfirst Kindergartens, PO Box 8089, Christchurch 8440
KIDSFIRST KINDERGARTENS ARE A NOT FOR PROFIT ASSOCIATION WITH OVER 70 KINDERGARTENS AND EARLY LEARNING CENTRES COVERING CHRISTCHURCH, CANTERBURY, CENTRAL OTAGO, BANKS PENINSULA AND THE WEST COAST - AND HAS DONE SO FOR OVER 100 YEARS
- AS THE PLACE LOCAL KIDS COME TO LEARN, PLAY AND HAVE FUN.