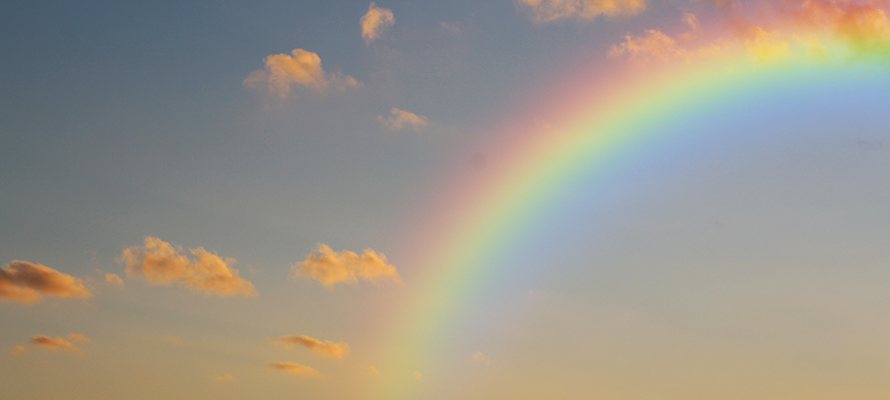 All the colours of an Uenuku.
Do you know all seven colours of the rainbow/uenuku? How about in Te Reo?

FIND OUT WHY WE'RE JUST BETTER BECAUSE...

At Kidsfirst, we believe that weaving culture into the everyday is vitally important for an early childhood organisation.

It teaches respect for others, a love for language, but most importantly a passion for learning about someone else's heritage.

Our tamariki learn that together we are stronger. With this knowledge they can go into the world with an open mind, ready to make new friends across the rainbow.

Rainbows. Uenuku.

Are they just a scientific fragmentation of water? Or an over-arching family of colours that symbolise meaning?

Even though our kindergartens are unique, they're all connected together by our Kidsfirst values. And through something as simple as a rainbow, we can symbolise these values to children in a positive and easy-to-understand way.

So, that being said, can you name the colours of the rainbow in Māori?

Red - Whero: The colour representing Te Whai Ao/the realm of being. This colour is symbolic of Papatūānuku the earth mother and her nurturing of all life. It's a blend of the passion attached to red and its relation to growth and support.

Our 100% qualified teachers are 100% connected with this philosophy. They're committed to approaching each learning opportunity with enthusiasm, so that each child can feel excited about learning something new.

Orange - Karaka: Describing the orange fruit of the Karaka tree. The Karaka tree has a powerful spiritual significance. It was believed to be brought to New Zealand from the ancestral island of Hawaiiki. It's also the colour of nourishment, as historically both kumara and the Karaka fruit (when cooked right), have been important food sources for some iwi.

This embodies the congruous Māori value of respecting those who have gone before and what they have given us to carry forward.

At Kidsfirst, we encourage our children to understand and respect what their teachers, parents and wider community do for them as they grow. We hope that with this respect comes a grounding of trust, and a bond that enhances their learning as they listen to elders who inspire them.

Yellow - Kōwhai: Describing the yellow flowers of the Kōwhai tree. The blossoming of Kōwhai flowers was the signal of the last frost and a time of celebration! Because of its semi-deciduous nature, the yellow flowers stand out in the sea of green forest that surrounds these trees. It's amazing how such seemingly small flowers can bring incredible life to their surroundings.

We think our children are like these Kōwhai flowers. Even though they may be small, their happiness can have a huge impact on those who around them. At Kidsfirst, we make sure that they're in a warm comfortable environment where they can have the best time possible! Our teachers are positive, our big backyards are filled with things to do and we have small class sizes filled with best buddies.

Green - Kākāriki: The colour of the forest. Legend tells of Tāne mahuta - the god of the forest -pushing apart his parents Ranginui (god of the sky) and Papatūānuku (earth mother) in order to let light into the world. This legend has developed a real love for nature in New Zealand culture.

In the Māori world, there is the belief that we are protectors of nature. And that we will be rewarded with nature's treats as long as we look after nature in return.

We bring this philosophy into Kidsfirst Kindergartens. We have massive outdoor spaces full of trees, native bush and vegetable gardens, because we know how important fresh air is in revitalising young minds. They learn how to look after their environment, and in turn it gives them a tree to climb, or a bush to play hide-and seek in, or produce to either eat or share with the community around them.

Kidsfirst tamariki also enjoy frequent class trips to forests and botanical or community gardens. We want to give our children an appreciation for just how beautiful our national landscape really is. To give them a love for everything that the forest can give them. Hopefully, this will blossom into a respect for the natural world, which may mean a more sustainable future for us all.

Blue - Kikorangi: Literally meaning "flesh of the sky". Throughout Māori folklore, Ranginui (the sky father) was seen as the originality of knowledge and enlightenment. Knowledge was passed down from Ranginui through Tāne who climbed the tops of the trees and collected it in baskets.

Through this legend we learn the value of manatiaki/guardianship. Our teachers and children realise the importance of knowledge and how exciting it can be to discover new things at kindy. These teachers pass down knowledge (like Tanē once did) and our children take it as they look to progress in their learning.

This guardianship is enhanced when you see our wide age range of 2-5 year olds. This age difference allows our older tamariki to become role models for our younger children, helping to pass on knowledge, behaviour and values to their younger brothers and sisters. And this results in children not only learning from their teachers, but from their peers as well (ako). It also allows the older children to develop leadership skills that are vital for the rest of their lives.

Indigo -Waiporoporo: The colour of intuition.

Waiporoporo reflects the value of tatau tatau/collective responsibility. At Kidsfirst, our children know that they're part of a team, and even at their young age, we nurture that intuition so that they can relate to others better. Whether it's tidying up at the end of the day, or moulding the sandcastle while someone else digs, we're all part of a family that look after each other.

Kidsfirst's structured programmes are a major factor in this type of learning. Our teachers ensure that they plan each day around a routine so that there is a calm, guiding hand that shapes children's energy into something productive. Not only are children building their own character by doing this, but they're give something back to others without having to be asked.

Violet - Mawhero: The colour of individuality.

Mawhero reflects the value of whakamana/enablement. Every child is different. At Kidsfirst, we recognise that each child has an individual character, and we want to grow this into a personal mana. The strength to be self-confident. This allows children to be proud in their work and the freedom to be whoever they want to be at kindy, so they can feel completely comfortable in their learning.

The rainbow as a whole:

Te Ao Māori is about everything coming together as one. All individual components of the world work with their differences to create a better whole. Whether it be the trees providing wood for shelter or wakas, or how the sea is full of fresh fish to catch, or how the earth nourishes life so food like kumara can be grown, it all provides resources that we can thrive off.

We want to bring this same philosophy to Kidsfirst. We want all of our "colours" to create an over-arching rainbow. Whether it's planting a tree in our backyards, learning from qualified teachers or building a sandcastle with their best friends; we want to give tamariki a fusion of nourishments that will transform them into fantastic young kiwis. We want children to be the best they can be.

We want them to be the treasure at the end of our rainbow.

.

Kidsfirst Kindergartens
Head Office, 43 Birmingham Drive, Middleton, Christchurch 8024
+64 3 338 1303email: questions@kidsfirst.org.nz
Postal Details: Kidsfirst Kindergartens, PO Box 8089, Christchurch 8440
KIDSFIRST KINDERGARTENS ARE A NOT FOR PROFIT ASSOCIATION WITH OVER 70 KINDERGARTENS AND EARLY LEARNING CENTRES COVERING CHRISTCHURCH, CANTERBURY, CENTRAL OTAGO, BANKS PENINSULA AND THE WEST COAST - AND HAS DONE SO FOR OVER 100 YEARS
- AS THE PLACE LOCAL KIDS COME TO LEARN, PLAY AND HAVE FUN.