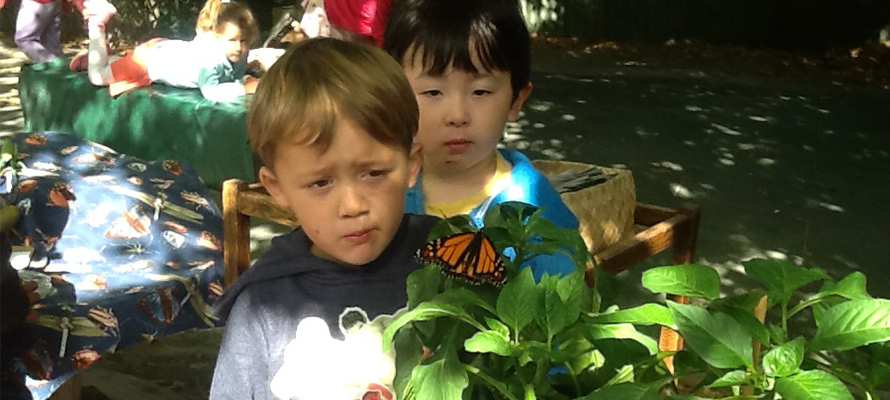 Monarch butterflies / kahuku at Sunbeam
We want people to know our great big backyards are BETTER BECAUSE we can accommodate all of the wonderful, outdoor exploration and discovery that is so important during the early years of learning.

FIND OUT WHY WE'RE JUST BETTER BECAUSE...

Over the warm summer days our Kidsfirst gardens are in full bloom. Pockets and pots of colourful, nectar-laiden flowers, and other bee and butterfly friendly plantings attract some of our favourite visitors – monarch butterflies/kahuku.

What's not to love about these beautiful, orange and black winged creatures, gently fluttering on the breeze? And with their cheerful arrival comes so many fascinating learning opportunities too!

"Our tamariki were captivated watching the life-cycle of our kindergarten monarch butterflies play out in front of their very eyes," says Kidsfirst Sunbeam Head Teacher, Neroli Gardner.

The four stages of the monarch butterfly/kahuku begin when an adult lays tiny eggs on a mature swan plant. The larvae hatch as adorable tiny, stripy green, white and black caterpillars.

Photo thanks to Jacqui Knight, Monarch Butterfly NZ Trust

"With the first sign of hatching - and a magnifying glass at the ready - tamariki are delighted to take a closer look at the new arrivals," says Neroli.

Sporting a pair of perky, black quivering antennae, the caterpillars swiftly munch through the leaves to grow full and plump, before transforming into a pretty green and gold-fringed chrysalis (pupa).

"We remind our children to just look and not touch," says Neroli. "Helping to instill kaitiakitanga - care, respect and guardianship for nature and all of the little creatures that we share our world with."

"Waiting for our monarch butterflies to eventually emerge from their chrysalis takes time too - so it teaches tamariki patience!"

It's not just the amazing scientific aspect of watching the life-cycle that provides inspiration for little minds. From researching monarchs in books or online to playing dress-ups, doing jigsaw puzzles, creating art works or making enchanting little winged finger puppets, these butterflies are a popular sight at many of our kindergartens and early learning centres.

"There's also links to maths, learning about size and the different stages that butterflies go through to grow," says Neroli. "And literacy, as a children discover new vocabulary and begin to communicate what they observe."

Learning opportunities:

If you have swan plants at kindergarten you can assign each child to to be a 'monarch monitor' at different times of the day. They can alert teachers and other children to the first signs of any activity - such as a tiny catterpillar hatching or a butterfly beginning to emerge.

Children can take turns to watch proceedings through a magnifying glass and descibe what they're observing. A monarch spends (approximately) two weeks as a caterpillar, two weeks as a chrysalis and two months as a butterfly.

Create a visual diary in poster form on the wall, showing the life cycle of your own monarch butterflies as it happens, with photographs or childrens art work.

Read, explore and discover more about monarch butterflies/kahuku in books or online.

Share photographs or stories of childrens' different experiences with monarch butterflies at home.

You can find out more about these beautiful butterflies here www.monarch.org.nz.

Photo thanks to Jacqui Knight, Monarch Butterfly NZ Trust

.

Kidsfirst Kindergartens
Head Office, 43 Birmingham Drive, Middleton, Christchurch 8024
+64 3 338 1303 email: questions@kidsfirst.org.nz
Postal Details: Kidsfirst Kindergartens, PO Box 8089, Christchurch 8440
KIDSFIRST KINDERGARTENS ARE A NOT FOR PROFIT ASSOCIATION WITH OVER 70 KINDERGARTENS AND EARLY LEARNING CENTRES COVERING CHRISTCHURCH, CANTERBURY, CENTRAL OTAGO, BANKS PENINSULA AND THE WEST COAST - AND HAS DONE SO FOR OVER 100 YEARS
- AS THE PLACE LOCAL KIDS COME TO LEARN, PLAY AND HAVE FUN.