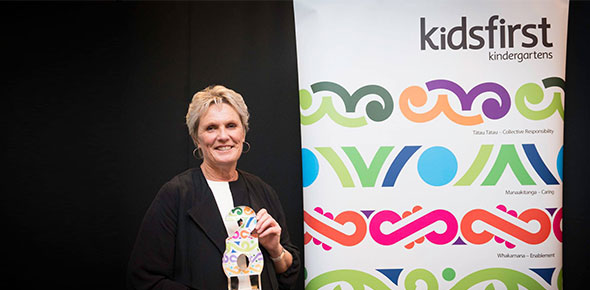 | | | |
| --- | --- | --- |
| | | Our Chief Executive, Sherryll Wilson recently celebrated 20 years with our kindergarten association and was awarded a special trophy to mark the occasion. |
OUR TOP STORIES:

Board Chair Carolyne Grant, wrapped up another wonderful Kidsfirst year with her speech at the recent 2015 AGM. She finished with a surprise announcement for Chief Executive Sheryll Wilson...

"Kia ora, and welcome everyone,

There is no doubt that 2014 marked another year of growth and development for our organisation.

While we continued to handle the fallout from the Canterbury earthquakes for the fourth year running, progress on two new services saw a welcome change of pace, and marked the start of a more optimistic, forward-looking era for Kidsfirst.

Work began on building the new Kidsfirst Diamond Harbour Early Learning Centre, with the goal of opening the doors to children at the start of Term One this year. Not only did we achieve that, but seeing the centre be officially opened by the Prime Minister just two weeks ago felt like a real triumph.

We also pushed the go button on Kidsfirst Glacier Country in Franz Josef in 2014. This service will be truly unique – catering to the diverse communities that surround it by providing the very best early childhood care and education for children aged up to five, with both casual and permanent enrolments.

Both of these new services represent what kindergarten does best: meeting the needs of local communities in a genuine way, with a motivation that is all about children and families, not corporate balance sheets.

They are the first new services in the network for over 20 years, and as such, they've been developed in conjunction with the needs and demands of today's families.

Longer opening hours, a wider age range and purpose-designed, eco-friendly buildings that reflect their natural environments, are all par for the course in our new centres. However, as much as things change, they also remain the same.

Kindergarten has never solely been about buildings, hours or age groups: at its heart, kindergarten is a philosophy that is threaded through everything we do.

In the case of our early learning centres, the very best features of traditional kindergarten - our commitment to 100% fully trained and registered teachers, the focus on sustainability, connection to our natural environments, learning through exploration and play, and a strong values base - remain fundamental.




Still, there is always a challenge in updating and maintaining the relevance of a much-loved institution without losing its soul. So it is pleasing to see Kidsfirst's deep connection with its staff, including the more than 250 fully qualified and registered teachers who work for us, as it adapts and responds to the continually changing environment.

Sometimes kindergarten is the only constant in a young child's life, and that has certainly been true in these post-quake years, as families move from one suburb to another or come to Canterbury to be a part of the rebuild. This creates challenges of its own, but also results in an immense sense of pride when our teams rise to the occasion.

'Proud' is also a word that springs to mind, when I think of Kidsfirst's ERO results. Like every school and early learning organisation in New Zealand, we are subject to regular visits and evaluation. Just how regular those ERO visits are, is determined by how well we do, in their eyes.

I am delighted to be able to report that our ERO results have been so positive in 2014, that many of our services have now been moved from a three to four year review cycle.

This is a very big achievement - and testament to the fantastic job our Chief Executive, educational and organisational managers, and teachers are doing.

Of course, we are nothing without financial sustainability. One of the biggest challenges in running a not-for-profit organisation is keeping the balance between being accessible, affordable and available to all, and balancing the books to ensure we go beyond survival, to future investment and growth.

Yet again in 2014 we are pleased to report excellent results, and can confirm that Kidsfirst is in a healthy position. Any surplus we generate - in this instance, $1.2m - goes into funding development and meeting the needs of individual communities.

Everything we invest is for the benefit of families and children. This year's strong financial management, along with support from the Ministry of Education, is one of the reasons we have been able to progress the two new early learning centres I spoke of earlier. This has ensured that the kindergarten philosophy - and what we believe to be the very best early childhood education experience on offer - remains alive and well in those communities, now and in the future.

Other organisations continue to recognise the innovative things that Kidsfirst is doing, and we are proud to be seen as something of a leader in the sector, on many fronts.

We work with a number of other kindergarten associations who face the same challenges that we do, but who sometimes lack the resources or critical mass to meet them.

Kidsfirst continued to provide leadership, management and educational support to the Central Otago Kindergarten Association in 2014, along with a number of other smaller associations. Our involvement in these other organisations reflects how much we believe in the power of kindergarten and how passionate we are about protecting it for future generations.

Although Kidsfirst is in a definite growth phase, we are still firmly implanted in neighbourhoods, close by to our traditional educational partners: schools.

Kindergarten - whether it's under a traditional structure or delivered via different hours and to a wider range of ages - has traditionally been the gateway to school, and so you will find us continuing to thrive and grow where schools happen to be.

Remaining relevant to each new generation of parents can be hard work, but it is worthy work, and it is at the heart of my commitment to Kidsfirst. As long as I have the privilege of being Chair of the Kidsfirst Board, along with my colleagues, Sherryll and her team, I will continue to search for new ways of making kindergarten available to more parents, whānau and children – while remaining true to what makes it great.

So many others share my passion and that's clear tonight as I look around the room. It's that collective energy and enthusiasm that will see the growth continue and gain momentum.

Kidsfirst is fortunate to have such a strong, energetic and capable Board, drawing from a wide range of skill sets. We will most certainly miss the presence of former Chair and Kidsfirst Board Member of 5 years standing, Jan Forsyth, as she steps down this evening.

Jan's sensible, no-nonsense approach, practical problem solving abilities, and her vision and passion for Kidsfirst, and the sector, is infectious, and will stay with us long after she is gone from the Board table.

I must also acknowledge Sherryll and her Senior Leadership Team for their dedication and absolute determination to get things done and continue to push Kidsfirst forward, no matter how impossible the environment and the challenges must sometimes seem.

And now, before we proceed with the formalities, I have a very special announcement…"

The announcement was to honour our Chief Executive Sheryll Wilson for an amazing 20 years with Kidsfirst kindergartens. The award was in recognition of Sheryll's dedication and commitment to the association and the passion, talent and expertise she consistently brings to her work with Kidsfirst.

QUICK READ

At the recent 2015 Kidsfirst AGM, Board Chair Carolyne Grant delivered a heartfelt speech with a very special mention for Chief Executive Sheryll Wilson, who received an award in recognition of 20 amazing years with the association.
KIDSFIRST KINDERGARTENS ARE A NOT FOR PROFIT ASSOCIATION THAT HAS DEVELOPED AND MAINTAINED KINDERGARTENS IN CHRISTCHURCH, CANTERBURY AND ON THE WEST COAST FOR OVER 100 YEARS - AS THE PLACE LOCAL KIDS COME TO LEARN, PLAY AND HAVE FUN.