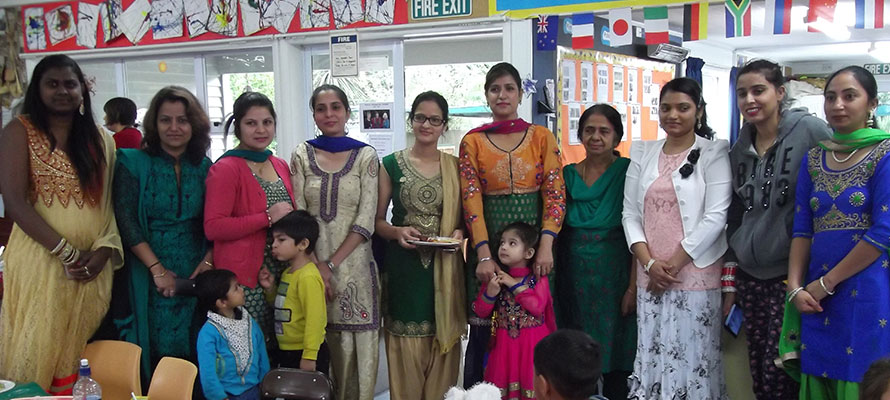 | | | |
| --- | --- | --- |
| | | Adults and children embraced a Cultural Day at Kidsfirst Richmond with vibrant, colourful traditional dress and delicious new foods to try. |
OUR TOP STORIES

Kidsfirst Richmond celebrated with a Cultural Day to embrace some of the rich, diverse family traditions at the kindergarten.

Many wore their brightly coloured traditional dress - pink - gold - patterned - purple.

Sharing food is sharing culture, and for kai there were many delicious dishes to sample.

"It was a special celebration with yummy foods to try," says Teacher, Marilyn Grundy.

The teachers have really loved the feedback from the parents, some of whom also came along in traditional dress for the day. They really felt a part of it all and enjoyed the chance to share parts of their culture with other kindergarten families.

"This is so important because if the parents feel welcome, the children naturally feel welcome too," adds Marilyn.

QUICK READ

Parents and children at Kidsfirst Richmond loved the chance to share some of their traditions on a cultural day held at the kindergarten.
KIDSFIRST KINDERGARTENS ARE A NOT FOR PROFIT ASSOCIATION THAT HAS DEVELOPED AND MAINTAINED KINDERGARTENS IN CHRISTCHURCH, CANTERBURY AND ON THE WEST COAST FOR OVER 100 YEARS - AS THE PLACE LOCAL KIDS COME TO LEARN, PLAY AND HAVE FUN.