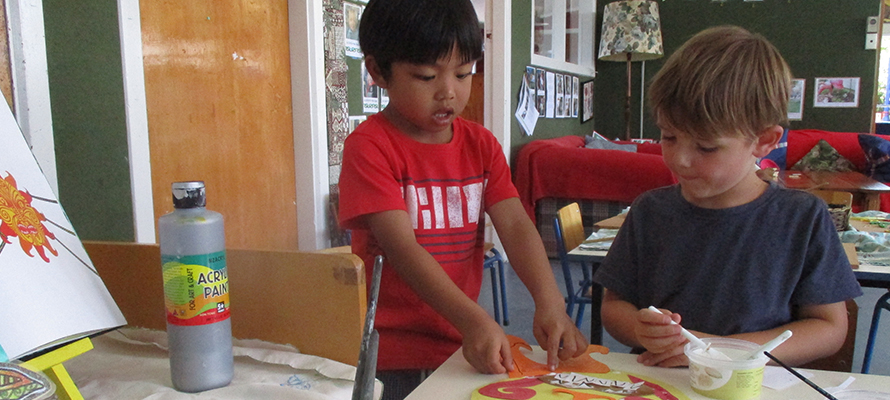 Managed to catch some sun this summer?
Our bicultural heritage is important to us and explored through the many unique ways our kindergartens and early learning centre's weave Te Ao Maori/the Māori World into learning.

FIND OUT WHY WE'RE JUST BETTER BECAUSE...

Kia Ora! Like all of our kindergartens and early learning centre's across the network, Kidsfirst Riccarton encourages the use of Te Reo Māori every day.

"Te Reo Māori is here all the time at kindergarten," says Kidsfirst Riccarton's Head Teacher, Sarah Scrase. "And with the current hot weather we decided to explore more about the Māori legend of Te Rā the sun with the creation of vibrant collage art work."

According to Māori legend, the sun god Tamanuiterā (Te Rā) used to travel across the sky far too fast and no one could get anything done. Mythological god Māui decided he would take matters into his own hands to lengthen the days.

Bearing the intense heat with his brothers, Māui captured Te Rā with a magical jawbone and ropes to slow its arc across the sky.

Fascination for the legend of Māui and the awesome powers of Te Rā the sun, transformed into some fantastic art work with children creating a collage in vibrant whero (red), karaka (orange) and kōwhai (yellow).

.

Kidsfirst Kindergartens
Head Office, 43 Birmingham Drive, Middleton, Christchurch 8024
+64 3 338 1303 email: questions@kidsfirst.org.nz
Postal Details: Kidsfirst Kindergartens, PO Box 8089, Christchurch 8440
KIDSFIRST KINDERGARTENS ARE A NOT FOR PROFIT ASSOCIATION WITH OVER 70 KINDERGARTENS AND EARLY LEARNING CENTRES COVERING CHRISTCHURCH, CANTERBURY, CENTRAL OTAGO, BANKS PENINSULA AND THE WEST COAST - AND HAS DONE SO FOR OVER 100 YEARS
- AS THE PLACE LOCAL KIDS COME TO LEARN, PLAY AND HAVE FUN.