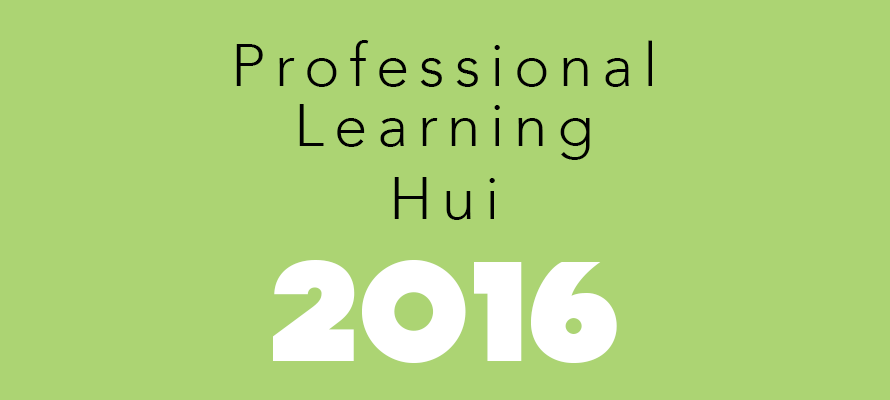 | | | |
| --- | --- | --- |
| | | Doing the team and community proud at our immersive Professional Learning Hui |
OUR TOP STORIES

The friendly faces of our teachers engaging, questioning and soaking up ideas is what we like to see when the annual Professional Learning Hui rolls around.

Our Professional Learning Hui is unlike any professional development programme offered elsewhere. During these two-day events, our proud and passionate teachers gather to focus on extending our education practice and further developing the best we can be for the children, whānau and communities of our kindergartens.

Over 300 Kidsfirst teachers attended this year's event held during the term break on 27 and 28 April 2016 at St Margaret's College. We also welcomed 80 professionals from centres outside of Kidsfirst, representing regions all around the South Island – their involvement demonstrating the calibre of the presentations and workshops.

We were priviledged to have hosted presenters; Professor Margaret Carr, from the Univeristy of Waikato, who was one of the key writers of the National Curriculum Te Whariki; Melanie Riwai-Couch, Principal of Te Kura Kaupapa Māori o Te Whānau Tahi, a full immersion Māori school in Christchurch; Associate Professor Helen Hedges, who is Head of School for the School of Curriculum and Pedagogy in the Faculty of Education at the University of Auckland; and many more leaders of academic study in New Zealand's Early Childhood Education (ECE) sector.

Some common threads that ran through the presentations and workshops were place-based education, bicultural practice and education for sustainability. Sessions covered everything from whānau engagement and useful apps, to understanding autism and giftedness.

Education Services Manager and Organiser of the event, Raewyn Penman described her favourite moments, "For me, Dr Jenny Ritchie and Cathy Sweet's sessions on Te Tiriti O Waitangi and how to integrate its principles into our day-to-day work were highlights. It's also great to see teachers from around our network presenting workshops and sharing their unique knowledge and experiences. One particularly popular workshop was Kidsfirst Sunbeam's Provoking children to engage in learning."

The original Professional Learning Hui four years ago was an experimental affair, testing if teachers were interested in reinforcing professional development over the term break (traditionally their holiday period). The uptake was phenomenal, with many teachers praising the high standard of research and presentations they were exposed to, and expressing how their teaching had been refreshed and reinvigorated.

And so we continued to run the Professional Learning Hui year on year, bringing the Kidsfirst team together to further drive our passion for achieving the best outcomes possible in the crucial early learning years.

Here were some comments from teachers after the event, feeling inspired, ready to launch into a new term with their kindergarten communities and begin putting the theory into practise:

"I got something valuable from all keynote presentations. All were well presented, fabulous, interesting - rich and wonderful."

"Melanie Riwai-Couch's presentation really showed how children thrive in their cultural framework. Thank you so much to the team who organised this Hui. It was MAGNIFICANT."

"Jenny Ritchie's workshops were great. She spoke briskly and got through a wonderful amount of content, and I left with lots of ideas to share with my team."

"Provoking children to engage in learning - brilliant information and presentation, I want my whole team to learn about this! Great work Sunbeam."

"As a reliever I have appreciated this wonderful opportunity to develop my professional learning. The speakers were very good, topics thought provoking. A good venue as well. Thank you to all the organisers - lots of work done behind the scenes and also on the days."

Front row: Robyn Leckie, Kidsfirst ESM; Cheryl Greenfield, Keynote Speaker; Raewyn Penman, Kidsfirst ESM; Jeanette Clarkin-Phillips, Keynote Speaker; Professor Margaret Carr, Keynote Speaker;

Back row: Lyndell Turner, Kidsfirst ESM; Jo Rendall, Kidsfirst Manager Education Delivery; Nicki Chapman, Kidsfirst ESM; Associate Professor Helen Hedges, Keynote Speaker; Tracy McAllister, Kidsfirst ESM; Niki Veele, Presenter; Rebecca Chatwin, Kidsfirst ESM.

QUICK READ

Over 300 teachers from around the Kidsfirst network - and 80 professionals from outside our kindergartens - gathered together at our annual Professional Learning Hui to extend their education practise for the benefit of the children and whānau at our kindergartens.

Place-based education, bicultural practice and education for sustainability were common threads throughout the presentations and workshops.

Many teachers commented on the new ideas the Professional Learning Hui had inspired in them and how keen they were to go back and share them with their kindergarten communities.
KIDSFIRST KINDERGARTENS ARE A NOT FOR PROFIT ASSOCIATION THAT HAS DEVELOPED AND MAINTAINED KINDERGARTENS IN CHRISTCHURCH, CANTERBURY AND ON THE WEST COAST FOR OVER 100 YEARS - AS THE PLACE LOCAL KIDS COME TO LEARN, PLAY AND HAVE FUN.