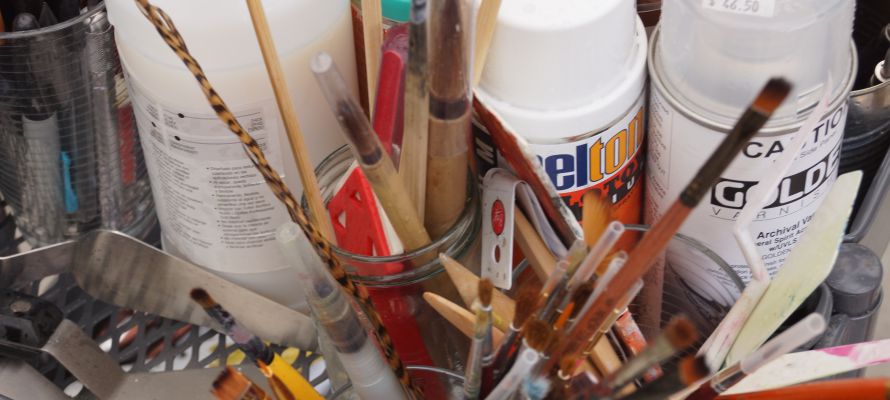 | | | |
| --- | --- | --- |
| | Our kindergarten communities are rich with talented parents and we welcome them to share their passion with tamariki... | |
SOME OF OUR TOP STORIES

Artist Kate McLeod, kindergarten mum to Lola, had tamariki captivated with her performance expressionist art piece at Kidsfirst Ilam.

"Kate told us about her renovations and creative projects happening at home and offered to do this performance piece for us." says Head Teacher, Christine Putt.

The abstract artwork was created on a large square canvas, to the tune of four inspirational songs, with each song forming a different part of the painting.

'The Circle of Life' from The Lion King, inspired a small circle traced within a larger one, onto the green nature-inspired background of the canvas.

"It's a moon," say the kids. "It's two moons!"

"What is it?" pipes up a curious voice.

"It's abstract expressionism," answers Kate as she stencils on leaves, lilies and ferns with green and gold spray paint, to the upbeat track 'Around the World' by Daft Punk.

"It doesn't have to be anything, just colours and shapes that you like or that make you feel good. I'll come up with ideas as I go, I didn't plan how the canvas would look at the start, it just evolves."

'So Love' by Pacific Heights, headed by Christchurch musician Devan Abrams, and Coldplay's 'Adventure of a Lifetime' provide the soothing soundtracks to the addition of curved red painted lines, to convey the heartfelt emotion of love.

"Such a wonderfully authentic experience for tamariki," says Christine, "to have a parent bring her passion and interest into our community."

"This will really inspire tamariki and they can revisit and recreate this experience, in their own way, choosing leaves from our garden as stencils and even their favourite music."

Above: Kate and her daughter who attends our Kidsfirst Ilam.

Kate has donated the beautifully created layered canvas piece to Kidsfirst Ilam. It will make a stunning edition to their kindergarten art gallery, that includes a canvas of the legendary mythological Māori god Maui and another of a white-framed delicate, coral pink, water-coloured flamingo (also donated by a kindergarten parent).

Christine has a thing for flamingoes, "I've loved them since I was a teenager." The elegant bird with its pop of pink pop adds a dash of tropical ambience around the kindergarten.

- Artist Kate reminds us of the wonderful expression from Pablo Picasso: Every child is an artist - the problem is how to remain an artist once we grow up.

From the image below that inspiration seems to have rubbed off...
Information including that about fees, services and promotional activities were correct at the date of publication of news stories but may since have changed. Please check with us to ensure information is current.