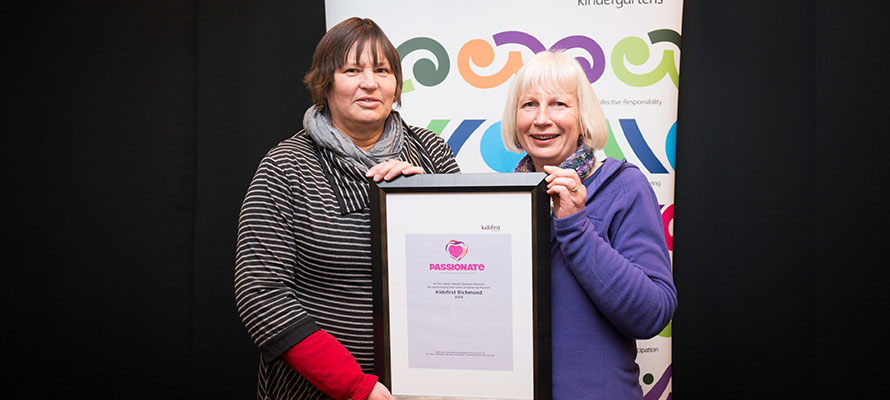 Passionate:

We love what we do, and it shows.
OUR TOP STORIES:

Kidsfirst Kindergartens Richmond received a highly commended in the Passionate Award 2015, for the Kidsfirst At Our Hearts Awards celebrated at the AGM in May.

The judges said it was easy to see that the Kidsfirst Richmond team absolutely love what they do. This is evident in the sense of fun, laughter and their, "Yes - Lets" attitude.

"Yes - Lets," was the reply to a recent request from parents for a dress up day. Teachers, children and parents all joined in the fun.

The team have created strong, reciprocal relationships with parents and whānau allowing more engagement with and involvement in the programme from whānau.

Recently the team, children and community all learned new hula hoop skills, with teachers using perserverance, problem solving and fun and laughter to support their new learning with the children and their parents and whānau.

It is great to see the passion of the Kidsfirst Richmond team transmit to the parents and whānau at the kindergarten who love to spend time with their children where they are relaxed, chatting and enjoying being in the space with staff. Fondly renamed "Richmond – the musical" its plain to see this kindergarten revels in the joy of music, singing and dance. What an amazing community of learning.

Congratulations to the Passionate team at Kidsfirst Richmond.

The Kidsfirst At Our Heart Awards reflect the core values of Kidsfirst

and what we believe in.

... with people, places, opportunities, ideas and our heritage



... and always striving
to do more

of the difference we make in lives, every day

People are at our heart

We love what we do
and it shows
KIDSFIRST KINDERGARTENS ARE A NOT FOR PROFIT ASSOCIATION THAT HAS DEVELOPED AND MAINTAINED KINDERGARTENS IN CHRISTCHURCH, CANTERBURY AND ON THE WEST COAST FOR OVER 100 YEARS - AS THE PLACE LOCAL KIDS COME TO LEARN, PLAY AND HAVE FUN.