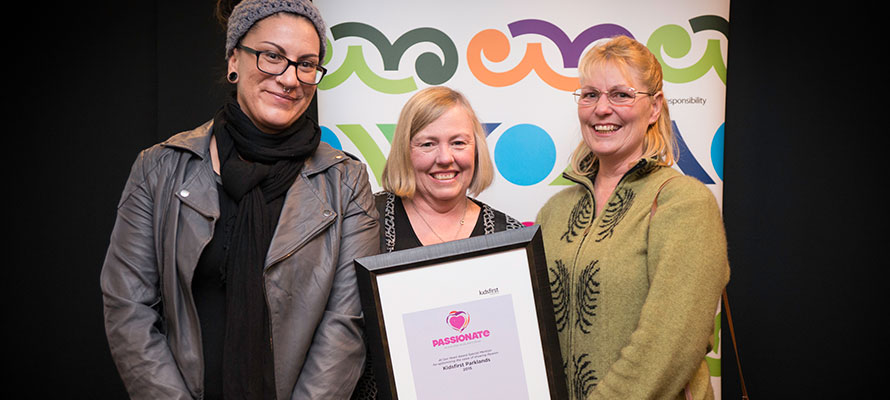 Passionate.

We love what we do, and it shows.
OUR TOP STORIES:

Kidsfirst Kindergartens Parklands received a highly commended in the Passionate Award 2015, for the At Our Hearts Awards celebrated at the AGM in May.

The judges said that the teachers here love what they do and it shows. It's a passion that comes through in the expressions on their faces, everyday.

They are passionate about the contribution they make to children's lives and learning. As well as passionate about their place, recently working on enhancing their outdoor environment and cultivating a beautiful space with the help of parents and the local gardening club. They are even passionate about their planning and assessment!


One judge commented, "I often admire the culture of this team and the way they openly engage in new opportunities with excitement and passion. An example of this was at the recent Professional Learning Hui with the conversations this ignited for them around place based education."

Congratulations to the Passionate team at Kidsfirst Kindergartens.

The Kidsfirst At Our Heart Awards reflect the core values of Kidsfirst

and what we believe in.

... with people, places, opportunities, ideas and our heritage



... and always striving
to do more

of the difference we make in lives, every day

People are at our heart

We love what we do
and it shows
KIDSFIRST KINDERGARTENS ARE A NOT FOR PROFIT ASSOCIATION THAT HAS DEVELOPED AND MAINTAINED KINDERGARTENS IN CHRISTCHURCH, CANTERBURY AND ON THE WEST COAST FOR OVER 100 YEARS - AS THE PLACE LOCAL KIDS COME TO LEARN, PLAY AND HAVE FUN.