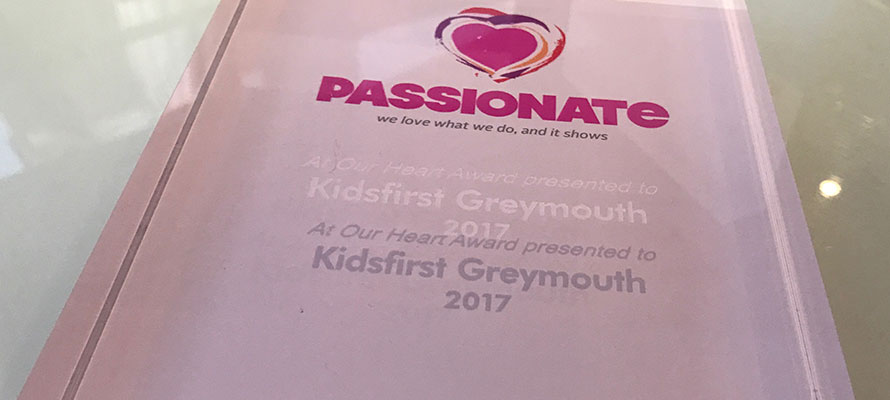 | | | |
| --- | --- | --- |
| | Kidsfirst Kindergartens At Our Heart Awards recognise the kindergartens, early learning centres and individuals who epitomise our core values... | |
SOME OF OUR TOP STORIES

Congratulations to Kidsfirst Kindergartens Greymouth the Passionate Award winner, recognised in the 2017 At Our Heart Awards, presented at the AGM in May.

Our values are very important to us as an association and we're so proud to be able to celebrate them in this way. Being Passionate about what you do shows in the way you go about things. It's something that's evident in Kidsfirst Kindergartens in all our communities. We care about doing what we do well.

The value of passionate is embedded and embraced by the Kidsfirst Greymouth kindergarten team – they epitomize a passion for teaching, learning and for ako (teaching and learning from each other).

This team has shown huge resilience. After preparing tamariki and whānau and packing up resources and equipment ready for a kindergarten move (for building earthquake strengthening) - the move was cancelled at the last minute.

When a new site was found at a local church the team went through the whole preparation process again - with a smile on their faces and a high level of professionalism and positivity.

Throughout their time at the church, any potential problem was solved with grace and enthusiasm. New parents who visited were so impressed with the teaching and learning they enrolled their children in spite of the less than ideal surroundings.

The Kidsfirst Greymouth team even took an ERO (Education Review Office) visit in their stride and were stunning on review day. Tamariki and kaiako welcomed the reviewers with a mihi, demonstrated quality teaching and learning and deservedly earned a very well placed review.

On returning to their newly refurbished kindergarten (after repairs were completed), their Maori blessing made front page news in the local paper, positively highlighting Kidsfirst Kindergartens in the community.

The team also presented a workshop on their journey to implementing Te Whatu Pōkeka at the Kidsfirst Professional Learning Hui - inspiring others to also take the plunge.

Congratulations Kidsfirst Greymouth!

Although we celebrate these values each year with awards and certificates, we know that tamariki, families and communities see the behaviours and commitment associated with our values every day, in so many different ways in all of our wonderful kindergartens across the network. So congratulations and keep doing what you're doing so well.
Information including that about fees, services and promotional activities were correct at the date of publication of news stories but may since have changed. Please check with us to ensure information is current.