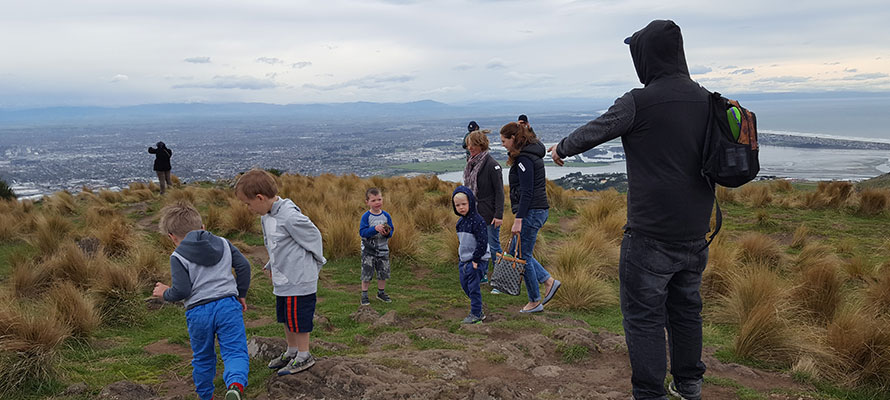 | | | |
| --- | --- | --- |
| | There's nothing like an outdoor adventure to inspire young minds! Excursions provide lots of opportunities to learn new things and help foster children's connectedness with the community in which they live... | |
SOME OF OUR TOP STORIES

Our teachers are only too aware of the difference trips outside the kindergarten gates can make in stimulating learning and are always looking for opportunities. They actively encourage tamariki to dip a toe in the water of the big wide world - that beckons us to explore, discover and have fun.

Blessed with the best of New Zealand's beautiful native forests on their back door step, Kidsfirst Glacier Country Early Learning Centre on the West Coast take regular bush walks to enjoy it all.

"Exploration within the natural environment is a big part of who we are," says Head Teacher, Tracey Hall.

"We often take expeditions into the surrounding native forest, for fresh air, exercise and to allow tamariki to revisit previous experiences and build on their existing knowledge."

Bug hunting, picnics, climbing on fallen trees and 'being at one' with nature are just some of the many different bush adventure highlights.

"We talk about caring for and respecting Papatuanuku/earth mother and Te Ngahere/the forest", says Tracey, "and children have the opportunity to explore in their own time and way."

Kidsfirst Lady May and Kidsfirst Lincoln teachers arranged a double decker bus for their adventure - taking a group of children to see Riccarton Bush/Pūtaringamotu, the only remaining area of dense podocarp forest still standing in Christchurch and a hidden gem.

Native trees and shrubs, massive trunks of kahikatea as well as matai, titoki and hinau flourish in this enclosed predator-free area.

The shared kindergarten trip was intended so that tamariki could meet and enjoy mutual learning experiences about this unique natural space in the heart of city suburbia and to reinforce that we are all part of a wider group.

Meanwhile, teachers at Kidsfirst Bromley were inspired to start 'Physical Fridays,' in the spirit of being healthy and looking after the tinana/body with exercise.

Any given Friday could involve time spent at the local school grounds for lots of fun and games or a visit out in the wider community - like a walk to the nearby Cypress Garden Reserve.

When asked what they might find one time on a Scavenger hunt at the Reserve tamariki imagined, "sparrows, manu pango (blackbirds)…lions, tigers, rabbits...or maybe even a Bigfoot!"

Our teachers understand the benefits of hands on learning. Kidsfirst Wigram jumped at the chance to join Kidsfirst Hornby kindergarten on a visit to Arion Farmpark.

Tamariki learnt about lots of different animals farmed in New Zealand like pigs, deer, goats, cows and curious looking white, woolly alpacas. Excitingly, they timed it just right to watch a lamb being born!

And there was an abundance of outdoorsy inspiration when Kidsfirst Templeton tamariki planned their summer fruit and vege kindy garden. "Let's grow broccoli, peas and lettuce, tomatoes, sunflower seeds and apples, carrots, lemons and corn," they said.

The eldest children at the kindergarten took responsibility (Kananga) for the job of plant-buying on behalf of the younger ones, with a yellow bus ride to Mitre 10 - and were excited to see there were enough little shopping trolleys for all!




On the edge of Christchurch East's River Road Red Zone, (and within walking distance from Kidsfirst Shirley kindergarten), is the Richmond Community Garden.

Here lovingly tended, fresh sun-ripened vegetables (and community spirit) abound. Local kindergartens are welcome to visit and learn about the joys of growing their own vegetables.

Amongst the clangour and hum of machinery (rebuilding parts of the neighbourhood), one little green-thumbed learner said, "If we plant all this it can grow big and cover all the dirt and bits of crashed concrete."

Another time, Kidsfirst Shirley kindergarten ventured even futher to discover more about the place they call home - visiting the Otakaro (Avon) river and the Port Hills.

After an exciting Gondola ride to the top, these keen explorers could see where the river meets the sea, picture Lyttelton Harbour as a volcano and try to imagine what the landscape may have looked like before settlement began.

Head Teacher, Janette Bowen, describes how the trip, "gave us a visual journey that cemented all of that wonderful learning about our history and how the very land we stand on was so spectacularly formed."

We so greatly appreciate and acknowledge all of the hard work and passion our teachers put in to make such amazing adventures for our tamariki possible.
Information including that about fees, services and promotional activities were correct at the date of publication of news stories but may since have changed. Please check with us to ensure information is current.