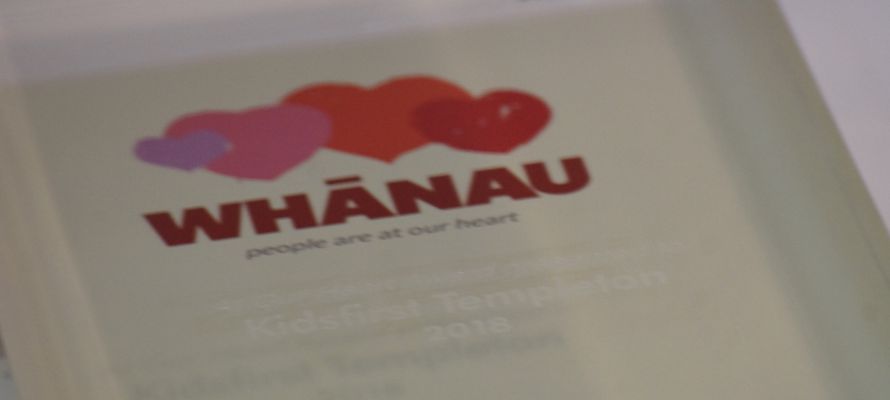 At Our Heart Awards.
Proud, Engaged, Whānau, Passionate, and Inspiring – these are the Kidsfirst At Our Heart values that we live out every day, at kindergarten. Every year we recognise the teaching teams who have particularly exemplified these values with certificates for runners-up, and trophies for the winners.

FIND OUT WHY WE'RE JUST BETTER BECAUSE...

Congratulations to our Whānau winner, Kidsfirst Templeton, recognised in the 2018 At Our Heart Awards, presented at the AGM in May.

"It's certainly one of my favourite times of the year, when we can recognise the kindergartens and teaching teams who've really shone and exceeded all expectations," says Kidsfirst CE, Sherryll Wilson.

Whānau is all about people. It reminds us of the importance of the close ties we have with parents, caregivers and others who are so important in the lives of children. We want to make sure that everybody can participate and contribute in their own way, to kindergarten life, and in children's education.

Kidsfirst Templeton are all about whānau partnerships with people at their heart. Stepping into this kindergarten, you can feel it's a place that's passionate, diverse and supportive. They've established a culture in which tamariki are valued, celebrated, and affirmed for who they are are, and what they bring to their learning.

You can see, feel and hear this in the environment in the way kaiako, tamariki and whānau are passionately supportive of and engaged in learning both at kindergarten and beyond the gates within the local community.

Teachers work with parents and children to make decisions, and this has resulted in a clear vision, strong agency and total ownership of their learning environment, with rich links to the

Māori world.

Working collaboratively with whānau and external experts to promote collective responsibility, equality and opportunities is a key way this teaching team strives for each child to achieve their personal best.

Congratulations Kidsfirst Templeton!

Although we celebrate these values each year with awards and certificates, we know that tamariki, families and communities see the behaviours and commitment associated with our values every day, in so many different ways in all of our wonderful kindergartens across the network. So congratulations and keep doing what you're doing so well.

.

Kidsfirst Kindergartens
Head Office, 43 Birmingham Drive, Middleton, Christchurch 8024
+64 3 338 1303 email: questions@kidsfirst.org.nz
Postal Details: Kidsfirst Kindergartens, PO Box 8089, Christchurch 8440
KIDSFIRST KINDERGARTENS ARE A NOT FOR PROFIT ASSOCIATION WITH OVER 70 KINDERGARTENS AND EARLY LEARNING CENTRES COVERING CHRISTCHURCH, CANTERBURY, CENTRAL OTAGO, BANKS PENINSULA AND THE WEST COAST - AND HAS DONE SO FOR OVER 100 YEARS
- AS THE PLACE LOCAL KIDS COME TO LEARN, PLAY AND HAVE FUN.