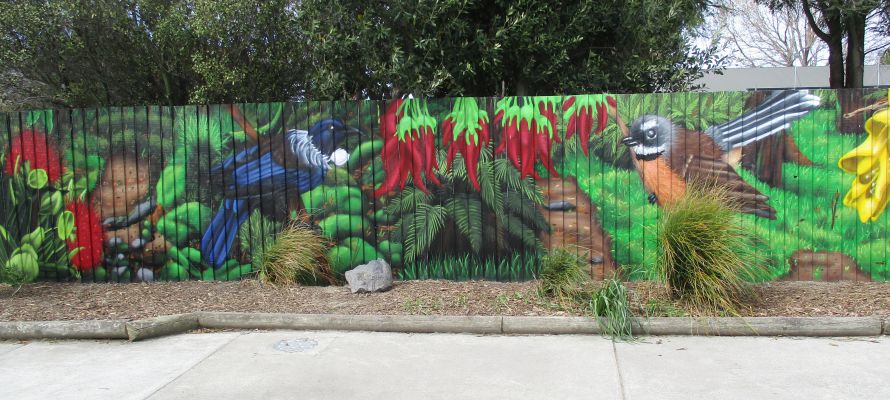 | | | |
| --- | --- | --- |
| | | Can you spot a tui, piwakawaka (fantail), kakapo or wax eye? How about bright yellow kowhai, vibrant green ferns or red pohutukawa and kakabeak? All part of a fantastic, vibrant new painted fence mural at Kidsfirst Kendal Ave... |
OUR TOP STORIES

Running the entire length of Kidsfirst Kendal Ave's kindergarten fence the mural is a big boost for the community who were looking to revamp and enhance their outdoor area (that needed a little bit of TLC as a result of four years closure after the Canterbury earthquakes).

"It took a good two terms of planning our mural with lots of community collaboration along the way, including consultation with our kindergarten whanau and Pauline-Ellis Waru our Kidsfirst Kaitautoko/Bicultural Support, before Christchurch-based street artist Brandon went ahead," says Head Teacher Jackie Cooper.

"We've involved the children every step of the way, asking for their vision of what the mural could be and to help draw up plans. And then to go back to the drawing board with new ideas about how it all might work best compositionally."

There's a very special community connection. Kindy kid Kalaniayii's Grandmother, Kui, had earlier handcarved and gifted a beautiful piko rānagi (curved fern) sculpture for the kindergarten garden - a treasure that was also painted on the mural!

As part of the refresh, the kindergarten playhouse has been painted with pukeko and the sandpit poles with motifs and design inspired by pasifika and maori art.

Children were not only amazed to come back from Term break and see the mural complete but are thriving even more in this very peaceful and stunningly depicted environment.

Jackie describes how much the children absolutely love it, "There is huge interaction with the mural all of the time, including a group time activity to match laminated pictures of flowers and birds along the fence – with many now able to correctly identify each by name."

Pip adds, "We are all so very proud of the mural and how it has been so wonderfully received by everyone – it has united the community and has helped us to identify with our place again."

"I love the kiwi"…"The fantail is my favourite" - just some of the comments from tamariki excited about Kidsfirst Kendal Ave's beautiful, brand new native forest and bird mural.

Some of the responses from parents:

"That is amazing. We drove past earlier this week and the kids made me turn the car around so they could see this new thing at kindy."

"Wow that looks amazing I can't wait to see it in person. So cool"

"The mural depicts our beautiful whenua with grace, mana, aroha and the essence of Tane Mahuta"
KIDSFIRST KINDERGARTENS ARE A NOT FOR PROFIT ASSOCIATION THAT HAS DEVELOPED AND MAINTAINED KINDERGARTENS IN CHRISTCHURCH, CANTERBURY AND ON THE WEST COAST FOR OVER 100 YEARS - AS THE PLACE LOCAL KIDS COME TO LEARN, PLAY AND HAVE FUN.