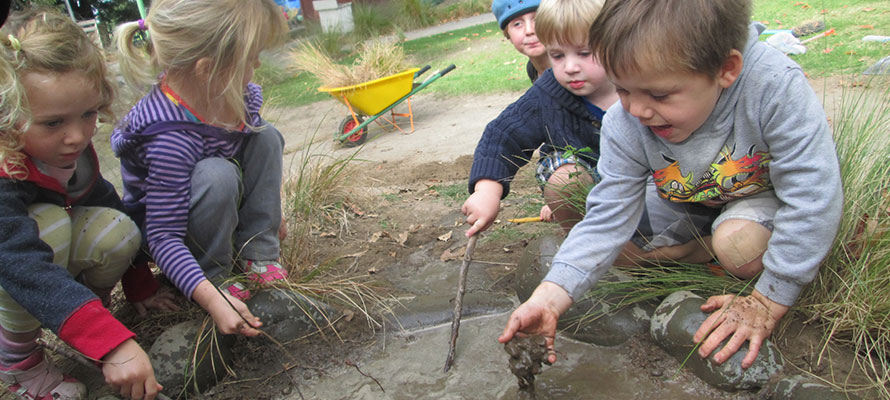 When it's been raining for several days, kindergarten can begin to feel a bit stuffy while children start to get restless…
Not so at Kidsfirst Kindergartens!
Out at Kidsfirst Burnham, they've found some great ways to enjoy the rain and to keep having fun outside, as a way of appreciating every aspect of what the outdoors has to offer them.

Because of the rain, many puddles had formed in their playground.

One particularly big puddle in an under-utilised corner of the garden intrigued many children, who started to use Matchbox car toys on homemade mud ramps.

Seeing their interest grow, teacher Mark Lewis ingeniously thought to ask families to bring in rocks from the local river and use them to line what had become known as the 'mud pit'. Using spades, they created something more structured which they could play in more easily.

The children spent more and more time outside playing in the mud pit. As a result, and with the help of the Kidsfirst Burnham's Education Service Manager Nicki Chapman, Mark was able to transpose some of the children's learning time to the mud pit.

He took one of their favourite stories, 'Stuck in the Muck', and acted this out with some animal figurines in the mud pit. Another time they all created 'mud handprints'. To display all their handiwork, Mark along with Ingrid Livingstone and Head Teacher Birgit Bracewell, created a collage wall of all the children's activities 'in the mud'.

They had so much fun in the mud pit, the children decided to make a second one. To start the process, the children had to plan it out and vote about where to put it. Modelling their plans on the first mud pit, the tamariki dug, poured, placed and patted their mud pit into shape. They also enlisted the help of three kindergarten teachers who took off their shoes and socks and got 'stuck in' as well!

This is such a good example of getting outdoors, no matter the weather, having fun and making the most of what nature has to provide.

Talk about getting back to basics and working with what the environment has given you.

QUICK READ

At Kidsfirst Burnham, they don't let the wet weather put a stop to playing outdoors!

Read about their mud pit, and how Kidsfirst teacher Mark Lewis has managed to extend the learning and get everyone involved.

Learning outcomes

Mark Lewis, Kidsfirst Burnham

The children worked together towards a goal of creating the original mud pit, then designed another one - making it as fun as possible.

To begin with, they had to plan it out as a group, negotiate each other's ideas fairly, and work together to achieve their goal.

The children needed to decide, by way of vote, on the best place to put the second pit. A consensus was made when they saw that the first mud pit was on raised ground - what if they could create the second pit for the first one to "flow into".

The children also learned about getting others involved in, and contributing to, a project - by asking them to bring in stones to line the mud pit.

While there is a place for toys, puzzles, games and technology, Mark was so impressed with how the children worked with what nature had given them and made the most of being outside. They got 'back to basics' and had so much fun in the mud.
KIDSFIRST KINDERGARTENS ARE A NOT FOR PROFIT ASSOCIATION THAT HAS DEVELOPED AND MAINTAINED KINDERGARTENS IN CHRISTCHURCH, CANTERBURY AND ON THE WEST COAST FOR OVER 100 YEARS - AS THE PLACE LOCAL KIDS COME TO LEARN, PLAY AND HAVE FUN.