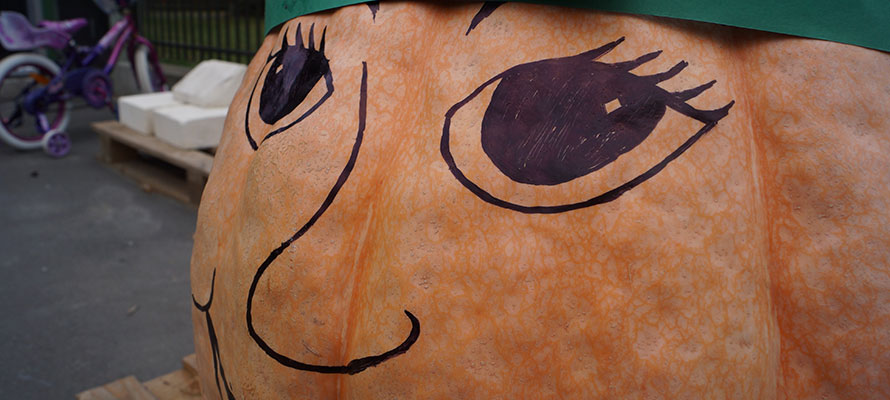 Kidsfirst MacFarlane Park get growing in the Mitre 10

'Easy As' Kids BIG Pumpkin Contest...
OUR TOP STORIES

NEWS FROM AROUND

CENTRAL OTAGO

The garden at Kidsfirst Macfarlane Park is one of their treasures, and provides many opportunities for learning.

When special BIG pumpkin seedlings became available from Mitre 10 stores in the Spring, as part of the 'Easy As' Kids BIG Pumpkin Contest, Kidsfirst MacFarlane Park were quick to snap up theirs...

Many little green thumbs at the kindergarten helped to eagerly plant the pumpkin seedling and many big hearts willed it to grow…

"The pumpkin grew and grew and became enormous," says Head Teacher, Pat Williams. "We hoped it would be the biggest!"

It was a warm Autumn Sunday for the contest weigh-in day, with prizes for the biggest, ugliest and best-dressed pumpkins.

Kidsfirst MacFarlane Park had emailed Mitre 10 to ask if they could visit the kindergarten to help weigh the pumpkin, prior to the Sunday.

Shane Allen, Marketing Coordinator at Mitre 10 Mega Hornby, was happy to oblige and arrived with his scales. First the children had a go at weighing one another and found that they all weighed about 16 kgs each.

Next, Shane heaved and rolled the pumpkin over to the scales…it was a whopping 67 kgs!

"It was lovely that Shane took the time to come out to our kindergarten, we really appreciated it," says Pat.

Following the weekend weigh-in, Shane was happy to deliver some exciting news to Kidsfirst MacFarlane Park - they were the winners in the heaviest pumpkin category!

The kindergarten received a wonderful prize pack including a $50 pressie card, gardening gloves and tools, as well as a medal and certificates for the children.

Pat adds, "We're over the moon and naturally pretty pleased."

Way to grow Kidsfirst MacFarlane Park!

QUICK READ

The children at Kidsfirst MacFarlane Park watched with wonder as their pumpkin seedling grew and grew into an absolute whopper!

They REALLY hoped it was the biggest pumpkin as part of the Mitre 10 'Easy As' Kids BIG Pumpkin Contest...
KIDSFIRST KINDERGARTENS ARE A NOT FOR PROFIT ASSOCIATION THAT HAS DEVELOPED AND MAINTAINED KINDERGARTENS IN CHRISTCHURCH, CANTERBURY AND ON THE WEST COAST FOR OVER 100 YEARS - AS THE PLACE LOCAL KIDS COME TO LEARN, PLAY AND HAVE FUN.