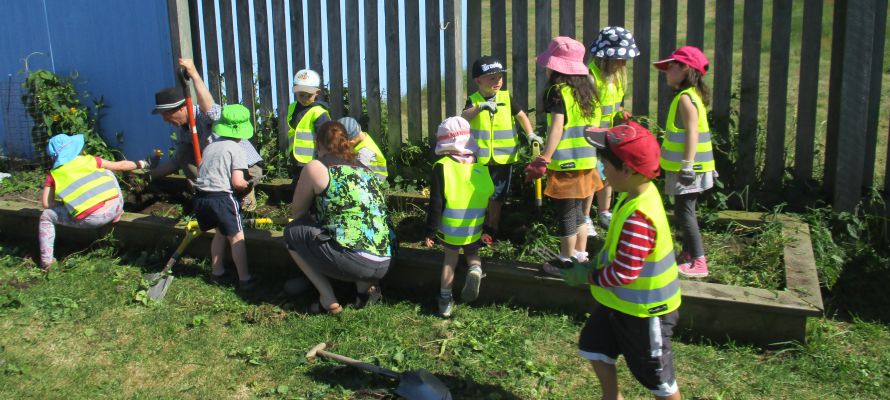 | | | |
| --- | --- | --- |
| | Kidsfirst Burnham are often seen out and about and recently discovered another way to lend a hand and help take responsibility for their local community... | |
SOME OF OUR TOP STORIES

With gardening season in full swing, Kidsfirst Burnham Teacher, Mark Lewis said tamariki, "had shown a keen interest in the preparation, kaitiakitanga/care and monitoring of our kindergarten garden."

"The growth we have been seeing has been amazing!"

The children's passion for plants inspired the kindergarten to offer their services at another local garden, in need of a little attention to help make it flourish.

"We were aware that the local play-group had a garden area and we wondered if this was something we could help out with," says Mark.

In a fine example of Whanaungatanga (a collaborative, collective approach to learning) they organised a group of ten children to lend a hand in their garden. Wheelbarrow loaded with tools, gloves and onion seedlings to gift, they set off ready to work together to reach their goal (Kotahitanga).

Mark and the team were full of praise for the children, "The area was thick with weeds, the weather was hot, and our children just got stuck in to complete the task at hand."

Ka pai to mahi - good work team Kidsfirst Burnham!

Kidsfirst Kindergartens
Head Office, 43 Birmingham Drive, Middleton, Christchurch 8024
+64 3 338 1303 email: questions@kidsfirst.org.nz
Postal Details: Kidsfirst Kindergartens, PO Box 8089, Christchurch 8440
KIDSFIRST KINDERGARTENS ARE A NOT FOR PROFIT ASSOCIATION WITH OVER 70 KINDERGARTENS AND EARLY LEARNING CENTRES COVERING CHRISTCHURCH, CANTERBURY, CENTRAL OTAGO, BANKS PENINSULA AND THE WEST COAST - AND HAS DONE SO FOR OVER 100 YEARS
- AS THE PLACE LOCAL KIDS COME TO LEARN, PLAY AND HAVE FUN.