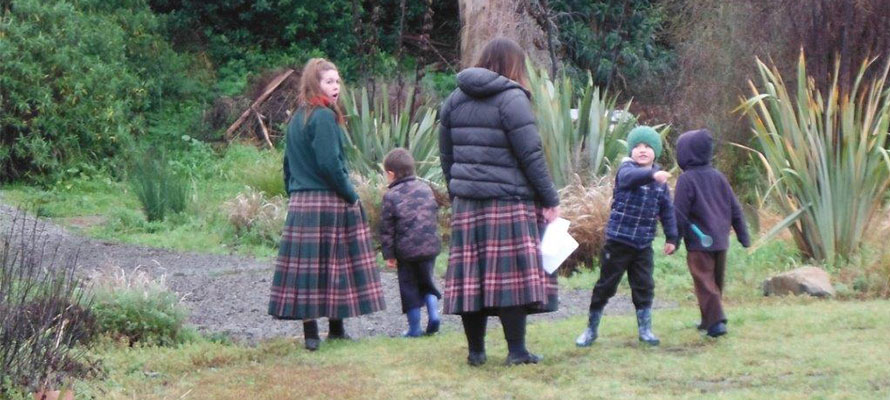 | | | |
| --- | --- | --- |
| | | Excursions outside our kindergartens take a fair bit of planning but they are a fundamental part of our curriculum. They are important to learning in so many ways - as was shown when a small group of children from Kidsfirst Lincoln, along with their teachers, visited the local Mahoe Reserve. |
SOME OF OUR STORIES.

Kidsfirst Lincoln often visit their local Mahoe Reserve and say it is always a valuable experience for the children.

The reserve was started in 2002 by Lincoln High School students who began the plantings that now boast over 700 native trees, shrubs and grasses.

The kindergarten has been involved over the years with plantings and

have been frequent visitors to this very special place.

Their latest excursion included both slugs and high school students...

Teacher Helen Smith describes the outing: "We discovered a puddle and noticed that there were slugs in it. We thought they had drowned but then we noticed that they poked their antennae out and started moving - what a surprise!"

The children then began to ask questions of the teachers like 'How could they be under the water and not die?' and 'How could they breathe?'

"There were some unanswered questions but many observations about colour, shape and size, as we relocated the slugs to a drier space on the bark pile."

In the afternoon, they really put ako (both teaching and learning at the same time) into action by involving Lincoln High School students in their activities at Mahoe Reserve.

Helen says, "It was with huge pride that I watched our children share their knowledge about what they had been looking at in the morning. They were teaching the older students and were most indignant when the High School students did not put the rocks and logs back to look after the insects' houses."

Helen shares this...

"I hope our children carry the knowledge and remember that day. Over time it is our thinking that the children will become the holders of knowledge about this place and create a strong attachment to it. That they will own it, care for it and become the experts in this place."

What a fantastic learning outcome, and one that children can absorb into their lives after they leave kindergarten.

QUICK READ

Kidsfirst Lincoln took a trip to a local Reserve and ended up teaching the LIncoln High students about what they had learned.

Mahoe Reserve is a very special place for Lincoln

with over 7000 native plants.

It was created in 2002 as an initiative by Lincoln High School students.
KIDSFIRST KINDERGARTENS ARE A NOT FOR PROFIT ASSOCIATION THAT HAS DEVELOPED AND MAINTAINED KINDERGARTENS IN CHRISTCHURCH, CANTERBURY AND ON THE WEST COAST FOR OVER 100 YEARS - AS THE PLACE LOCAL KIDS COME TO LEARN, PLAY AND HAVE FUN.