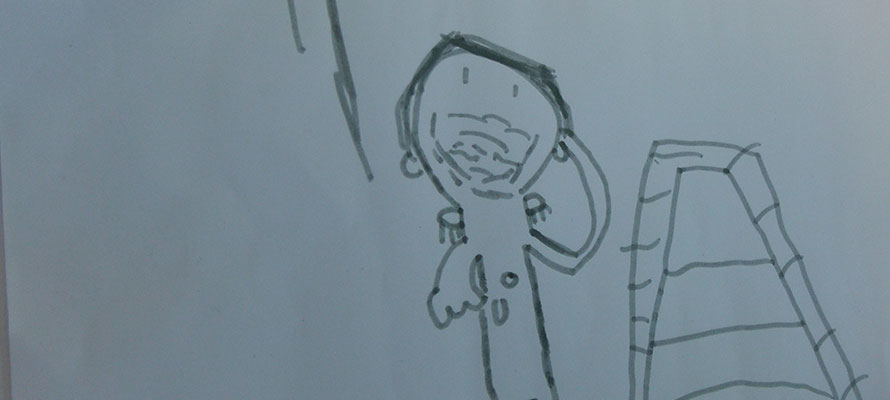 Drawing what they see around them helps children

grow and develop

through

creative thinking.
OUR TOP STORIES:

At Kidsfirst we strive to embrace creativity and imagination in learning.

Children have a wild and amazing sense of imagination and find wonder in even the most ordinary of things. Their inspiration can come in many different forms and sometimes in the shape of a shade sail…

Kidsfirst Lincoln's art wizard George can often be seen setting to work with paper and pen and Head Teacher, Helen Smith wondered where he got his ideas to create such fantastic drawings.

"From Lego characters or 'it was just there," says George.

Recently, the shade covers were being installed for the summer and George was inspired to capture all of the action on paper.

"I'm drawing the guy with the beard," says George.

Helen looked to see which person he was talking about. "Both of the installers had facial hair but I could see exactly who George was drawing."

He had added many details to his picture, like the sticker on the installers T-shirt and the details on his shoulders. Helen wondered what the shoulder details were for and George answered, "You know, they are for the captain, he's the boss."

George generously wanted to give his picture to the man, so Helen took photos of his wonderful work first. Then, on closer inspection, George decided to draw in the ground. Thinking the picture was now complete, Helen took another photo. George then decided that his mate also needed to be in the picture and, with his great eye for detail, added in his hat and a beard for him too.

As the great artist Picasso said, 'adults should not teach children to draw: instead they should be allowed to express their own originality – and we should learn from them. Children have an innate need to express their own interpretation of the world: we can observe much about their view of life from their drawings.'

We might see George's work one day yet in famous galleries around the world, but for now, he is enjoying all the wonderful creative opportunities that a Kidsfirst kindergarten life has to offer.

QUICK READ

Everyday at a Kidsfirst kindergarten you'll see children express themselves in all sorts of creative ways. At Kidsfirst Lincoln budding artist George was fascinated by the installation of the shade sails for the summer and decided to draw what he saw...
KIDSFIRST KINDERGARTENS ARE A NOT FOR PROFIT ASSOCIATION THAT HAS DEVELOPED AND MAINTAINED KINDERGARTENS IN CHRISTCHURCH, CANTERBURY AND ON THE WEST COAST FOR OVER 100 YEARS - AS THE PLACE LOCAL KIDS COME TO LEARN, PLAY AND HAVE FUN.