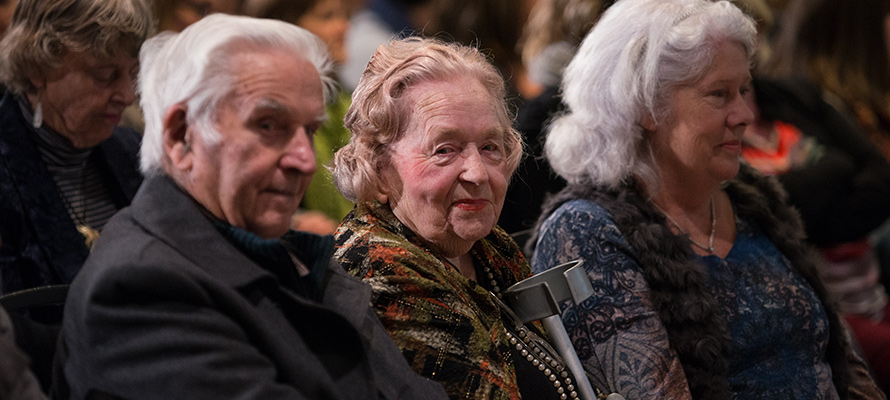 | | | |
| --- | --- | --- |
| | We have the amazing, unwavering, support of so many different people in our kindergarten communities. And some very special people have been with us for almost a lifetime! | |
SOME OF OUR TOP STORIES

Cantabrian Joan Whale, almost 90 years old, is a Kidsfirst Kindergartens' life member, with a connection that began back as a new mother, when she had her own young family.

Joan made a series of significant contributions to our Association in some of it's most formative years and is still so, so interested in kindergarten.

Over the years she has diligently kept many letters and newspaper clippings relating to kindergarten (more especially Kidsfirst Hornby) that she has passed on to Kidsfirst.

Joan was thrilled to attend this year's Kidsfirst AGM and At Our Heart Awards night as an honoured guest, accompanied by her proud husband and daughter. She put pen to paper after the evening's event to share her thoughts…

"Congratulations – What a delightful Annual General Meeting.

The caring of all aspects of the kindergarten come to the fore with glowing colours, from the first song to the last presentation, it flowed with caring concern.

I was happy to see you still use the word 'Kindergarten'. People know the word, worldwide, as a 'child's garden', and in some countries as a 'garden of children,' where children play and develop skills as they grow, guided by teachers trained to help.

I too learnt a lot from kindergarten. As young person, you were trained in the work place for the career you undertook. When you married, all of a sudden you were presented with this little bundle of joy to look after. Nobody trained you to be a mother, and you are it! You have this task to look after them as they learn to walk and talk etc. and who trains you for motherhood?

I needed to keep growing too, learning new skills and being part of my community. I found by being on the committee of the kindergarten, you met other young mothers and formed friendships that have lasted over the years.

We all shared what we learned about our young charges and we all learn the value of 'play' from our kindergartens and teachers, and the value of the community by being involved.

So kindy not only is a 'children's garden', it does help grow good parents also."

- Joan Whale, Life Member.
Information including that about fees, services and promotional activities were correct at the date of publication of news stories but may since have changed. Please check with us to ensure information is current.