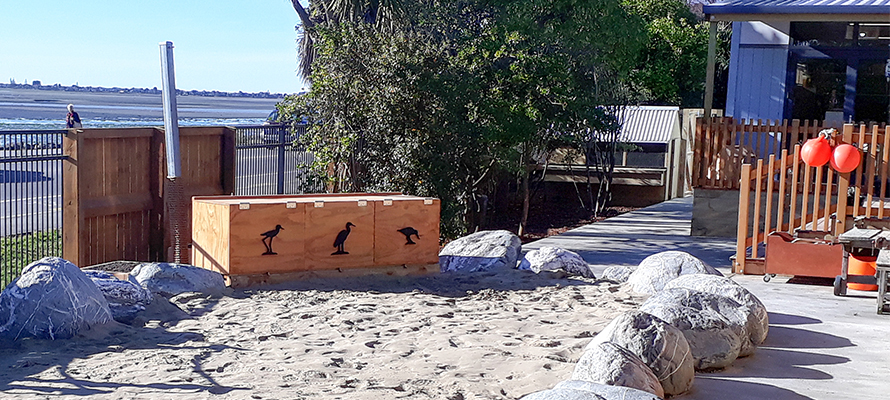 The Bays sandpit a hit.
At the Open Day for our brand new purpose built kindergarten, Kidsfirst The Bays, children made a beeline for the new sandpit. And who wouldn't! Set among native plantings, a state-of-the art playground and with striking views out over the water, the huge, boulder-lined sandpit is very inviting.

FIND OUT WHY WE'RE JUST BETTER BECAUSE...

A kindergarten sandpit is always a hive of activity. But there's something really special about Kidsfirst The Bays new sandpit that's worth a mention, thanks to it's designers at Compass playgrounds.

Inspired by the local coastal birdlife seen each day while landscaping, Compass designed three beautiful bird images to install on the wooden storage boxes alongside the sandpit. One is of a Poaka/Pied Stilt, another a Matuka Moana/White-Faced Heron and the third a Kūaka/Bar-tailed Godwit.

The dainty black and white Poaka wades on elegant stilts. Māori legend compared Pāoa, an important chief from Hauraki, to the Poaka because his dignified bearing and long strides were like the birds.

Ka kohure Pāoa, me te turuturu-pourewa te ahua a haere atu ana.

Pāoa was taller than any of them, walking along like a poaka.

The white faced heron/Matuka Moana has a distinctivly beautiful, blue/grey plumage, foraging purposefully for its aquatic prey with slow, precise steps, before striking with lightening speed.

When it's time to roost Matuka Moana can often be spotted perched high in a tree or at the top of man-made structures like lamp posts.

Who doesn't love the tenacious Kūaka/Bar-tailed Godwit? Their arrival to our shores from the Northern hemisphere in early September, is a sure sign of spring. This annual migration is no mean feat and is the longest non-stop flight of any non-seabird. That's 8-9 days straight flying - but with no inflight snack!

Maori considered the kūaka a bird of mystery. Kua kite te kohanga kūaka? Who has seen the nest of the kūaka? And, departing spirits were compared to the migratory kūaka in the saying, me he kāhui kūaka (like a flock of godwits).

"Our amazing sandpit, with its beautiful bird artwork, has had quite the test run and passed with flying colours, fast becoming a favourite spot for play and exploration," says head teacher, Liza Hewison.

"It's great to be here at Kidsfirst The Bays, our children seemed right at home from the moment we opened and can now enjoy everything about this fantastic new kindergarten every day."

.

Kidsfirst Kindergartens
Head Office, 43 Birmingham Drive, Middleton, Christchurch 8024
+64 3 338 1303email: questions@kidsfirst.org.nz
Postal Details: Kidsfirst Kindergartens, PO Box 8089, Christchurch 8440
KIDSFIRST KINDERGARTENS ARE A NOT FOR PROFIT ASSOCIATION WITH OVER 70 KINDERGARTENS AND EARLY LEARNING CENTRES COVERING CHRISTCHURCH, CANTERBURY, CENTRAL OTAGO, BANKS PENINSULA AND THE WEST COAST - AND HAS DONE SO FOR OVER 100 YEARS
- AS THE PLACE LOCAL KIDS COME TO LEARN, PLAY AND HAVE FUN.