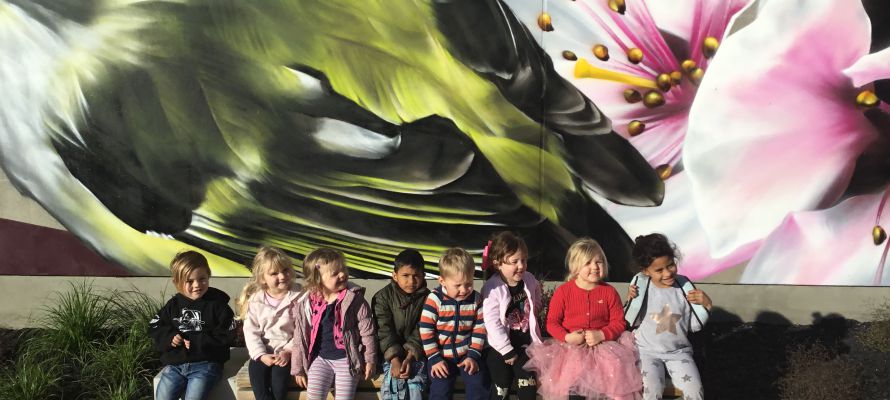 Exploring art in the city
What do you see when you think of the colour yellow? Perhaps a golden sun, a ripe lemon or a daffodil? A group of Sunbeam tamariki explored the vibrant colour yellow at the Christchurch Art Gallery's "Yellow Moon; He Marama Kōwhai" exhibition.

FIND OUT WHY WE'RE JUST BETTER BECAUSE...

Exploring art to inspire creativity is easy when your destination is Te Puna o Waiwhetū – the Christchurch Art Gallery.

A group of Kidsfirst Sunbeam tamariki interested in creativity visited twice last term. Once with teacher, Deana Wood for the Yellow Moon exhibition. And another time with head teacher, Neroli Gardener, to see artist Tony de Lautour's unique take on geometric abstraction, in his "Us v Them" exhibit.

"Tamariki were intrigued by the squiggles, shapes, lines and slopes of de Latour's displays of paintings, sculptures and ceramics," says Neroli.

And adds, "There was just as much value in the walk from the bus exchange to the gallery with striking street art and impressive new architecture to view along the way."

Read more here about Kidsfirst The Bays art exhibition at the Mt Pleasant community centre.

.

Kidsfirst Kindergartens
Head Office, 43 Birmingham Drive, Middleton, Christchurch 8024
+64 3 338 1303 email: questions@kidsfirst.org.nz
Postal Details: Kidsfirst Kindergartens, PO Box 8089, Christchurch 8440
KIDSFIRST KINDERGARTENS ARE A NOT FOR PROFIT ASSOCIATION WITH OVER 70 KINDERGARTENS AND EARLY LEARNING CENTRES COVERING CHRISTCHURCH, CANTERBURY, CENTRAL OTAGO, BANKS PENINSULA AND THE WEST COAST - AND HAS DONE SO FOR OVER 100 YEARS
- AS THE PLACE LOCAL KIDS COME TO LEARN, PLAY AND HAVE FUN.