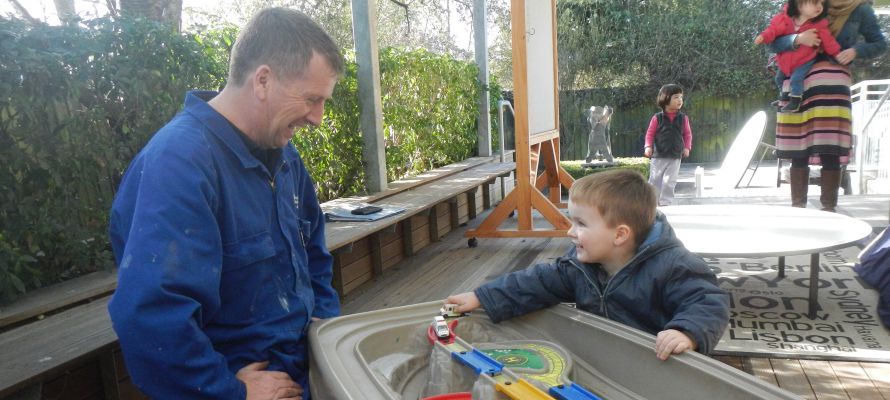 Kindergarten community connections
Kindergarten is the place where many young children, parents, caregivers and extended families connect on a daily basis. So it's not surprising to discover there's often lots of amazing community connections to be found there too.

FIND OUT WHY WE'RE JUST BETTER BECAUSE...

Meet Alan Sinclair. For a number of years now he's been the go to plumber on hand to help out at any Kidsfirst kindergarten across the Canterbury region. If a pipe springs a leak or requires some handy attention, he's the person for the job.

Alan's also a former Kidsfirst Shirley kindy kid (from the 70's). Having a laugh, the go-cart, eating paint and visiting 'behind the scenes' at Woolworths and the Post Office down the road, were the stand out memories from his kindergarten days.

"Mum would deliver me to kindy on the back of her bike," says Alan. "I also remember cheesdale cheese wedges to snack on and a playdough cake with a candle on it for my 5th birthday."

"Lots of the children I started kindergarten with went on to our local Banks Ave Primary School, the same as me. Another friend of mine still has a good friend who he met back in his kindy days – they've been through everything together."

This sense of ongoing connectedness and community is what kindergarten is all about. When Alan's wife, Megan was looking for a great start in early childhood education for their eldest son Dillon, she kept coming back to their local kindergarten, Kidsfirst Shirley.

"Our son Dillon has recently started at Shirley and is still settling in but it's great to see his confidence level and social skills starting to build," says Alan.

"What makes it really special for us is that he's learning these great new skills in the very same place I did – we have a real sense of connection here."

.

Kidsfirst Kindergartens
Head Office, 43 Birmingham Drive, Middleton, Christchurch 8024
+64 3 338 1303email: questions@kidsfirst.org.nz
Postal Details: Kidsfirst Kindergartens, PO Box 8089, Christchurch 8440
KIDSFIRST KINDERGARTENS ARE A NOT FOR PROFIT ASSOCIATION WITH OVER 70 KINDERGARTENS AND EARLY LEARNING CENTRES COVERING CHRISTCHURCH, CANTERBURY, CENTRAL OTAGO, BANKS PENINSULA AND THE WEST COAST - AND HAS DONE SO FOR OVER 100 YEARS
- AS THE PLACE LOCAL KIDS COME TO LEARN, PLAY AND HAVE FUN.