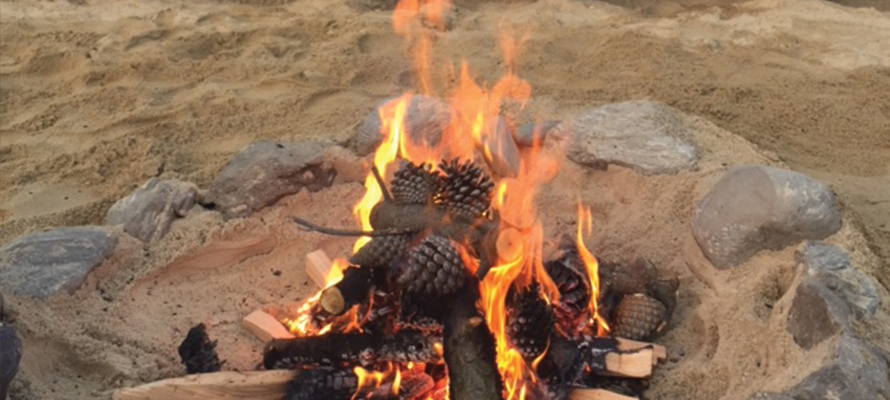 Central Otago celebrates Matariki
Matariki – the Māori New Year - is a bright spot on our mid-winter kindergarten calendar with kaiako, tamariki and whānau coming up with all sorts of unique ways to celebrate our bicultural heritage.

FIND OUT WHY WE'RE JUST BETTER BECAUSE...

As part of their Matariki celebrations, Central Otago's Kidsfirst Hawea children sang waiata for whānau and friends at kindergarten, and later for the crowds at a spectacular ECE community celebration at Dinosaur Park, in Wanaka.

A shared pot luck breakfast with family and friends and creating Harakeke putiputi/flax flowers (some harvested and woven at kindergarten) were great ways to connect at kindergarten over Matariki.

"We learnt how to say thank you to the harakeke before we harvested the correct leaves in a way that keeps the plant healthy," says Teacher, Lucy Robins. "As well how to weave, ki runga e ki raro, over and under."

One child's Taua (grandmother) also weaved enough putiputi to give out to all tamariki at kindergarten."

"To top off a fabulous day, we enjoyed a performance from the visiting Hawea Primary School Kapa Haka group - what a treat and great inspiration for our tamariki."

"We wish all of our kindergarten families a very Happy Matariki."

Meanwhile, glowing lanterns, stilt walkers and - after dark - marshmellows toasted over a campfire were all part of Kidsfirst Maniototo's Matariki celebrations.

Toasted marshmellows over a campfire at Kidsfirst Maniototo for Matariki.

"We had a wonderful evening," says Head Teacher, Deb McNally. "We gathered for karakia and performed waiata for whānau and friends - and a Matariki Macarena of course!"

A trio of stilt walkers (pupils from Maniototo Area School) led children and families on a lantern walk around the neighbourhood, before it was back to kindergarten to warm up with a hearty homemade vegetable soup.

Stilt walkers led children and families on a neighbourhood walk with handheld lanterns.

"Families wrote messages to loved ones on lanterns before lighting and sending them into the night sky," says Deb. "And the grand finale was marshmallows toasted over the campfire set in the sandpit." Yum.

"A wonderful night of whānau, fun, food and waiata thoroughly enjoyed by all."

Sending messages to loved ones on a sky lantern for Matariki at Kidsfirst Maniototo.

Waiho i te toipoto, kaua i te toiroa.

Let us keep close together not far apart.

.

Kidsfirst Kindergartens
Head Office, 43 Birmingham Drive, Middleton, Christchurch 8024
+64 3 338 1303 email: questions@kidsfirst.org.nz
Postal Details: Kidsfirst Kindergartens, PO Box 8089, Christchurch 8440
KIDSFIRST KINDERGARTENS ARE A NOT FOR PROFIT ASSOCIATION WITH OVER 70 KINDERGARTENS AND EARLY LEARNING CENTRES COVERING CHRISTCHURCH, CANTERBURY, CENTRAL OTAGO, BANKS PENINSULA AND THE WEST COAST - AND HAS DONE SO FOR OVER 100 YEARS
- AS THE PLACE LOCAL KIDS COME TO LEARN, PLAY AND HAVE FUN.