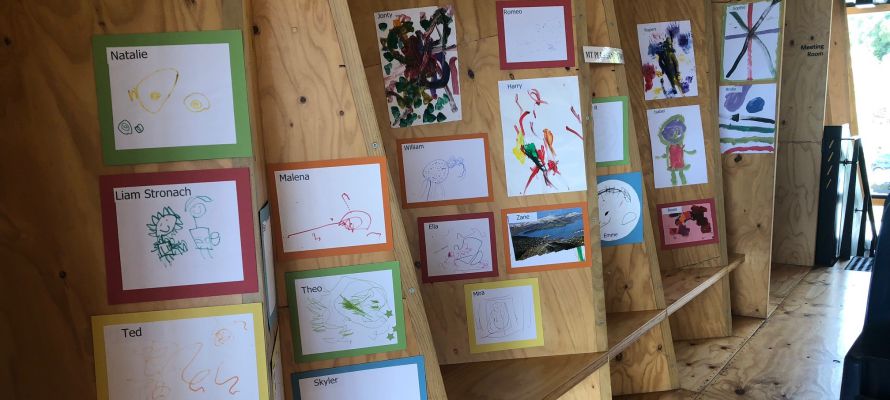 Community art exhibition
Kidsfirst The Bays have embraced the opportunity to make new connections with their neighbour, the Mt Pleasant Community Centre.

FIND OUT WHY WE'RE JUST BETTER BECAUSE...

The teaching team, tamariki and whānau at Kidsfirst The Bays have felt a real sense of community connection in Mt Pleasant.

"We were invited to be a part of Mt Pleasant Primary School's annual art exhibition fundraiser held at the community centre," says head teacher, Liza Hewison.

The art exhibition ran over a September weekend, beginning with a gala opening on the Friday and followed by a gold coin entry, family-friendly Saturday event.

"It's a beautiful space and our art display looked fantastic," says Liza. "It was so nice to be asked to be involved."

We often talk about community as one of the things that kindergarten does so well, and it's great to see another example of it in action.

Read more about art exploration at kindy with Kidsfirst Sunbeam's visit to Te Puna o Waiwhetū – the Christchurch Art Gallery.

.

Kidsfirst Kindergartens
Head Office, 43 Birmingham Drive, Middleton, Christchurch 8024
+64 3 338 1303 email: questions@kidsfirst.org.nz
Postal Details: Kidsfirst Kindergartens, PO Box 8089, Christchurch 8440
KIDSFIRST KINDERGARTENS ARE A NOT FOR PROFIT ASSOCIATION WITH OVER 70 KINDERGARTENS AND EARLY LEARNING CENTRES COVERING CHRISTCHURCH, CANTERBURY, CENTRAL OTAGO, BANKS PENINSULA AND THE WEST COAST - AND HAS DONE SO FOR OVER 100 YEARS
- AS THE PLACE LOCAL KIDS COME TO LEARN, PLAY AND HAVE FUN.