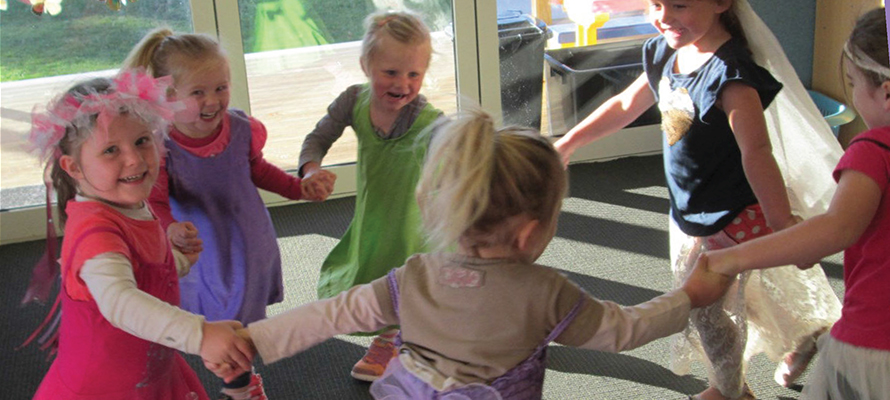 | | | |
| --- | --- | --- |
| | | Pirouettes, jazz hands, the robot and bopping to the beat - the children can't get enough of all sorts of boogying... |
OUR TOP STORIES

Passion shines through our Kidsfirst Kindergartens - we are inspired to learn from the things we most enjoy. At Kidsfirst Maniototo, one of those passions is dance.

On any given day of the week, usually in the morning (because they just can't wait too long!), the dress-ups are out, music requests negotiated and the dance floor begins to fill.

Beginning with two or three tamariki and a background CD, the vibrancy and beaming smiles of these initiators often draws a larger crowd.

Teacher, Theresa Souness says, "It's all led by the children, and it doesn't take much - just some music, someone to move, and then we're all up dancing!"

The children show leadership and are able to express themselves creatively by selecting the music (fast, slow, dance beats...), choosing costumes, organising each other and finding a teacher to help bring it all together.

The kindergarten has a room at one end of the building with lots of open floor space, so dancing tamariki have the freedom to jump around and wave their arms to groove the way they're feeling.

Some favourite routines include the Tufa Tafa song (especially the 'tongues out' part at the end!), partner dancing, playing out characters such as Frozen and, of course, freestyle.

"We think of ways to move as a group," says Theresa.

"It builds a natural rapport between children as well as a sense of belonging and appreciation for the individuality of their peers."

Through dance, children develop concentration and coordination, muscle control, rhythm and timing. As they move in the same space together, they're demonstrating body and spatial awareness, respect of each other and togetherness. Their passion for dance and encouragement of self-expression creates an environment of calm and friendliness at kindergarten.

There are no rules to kanikani (dance) - this super fun way of connecting brain and body is infectious at Kidsfirst Maniototo.

QUICK READ

A love of dance is infectious among the children and teachers at Kidsfirst Maniototo. Most days the children can be seen dancing to the beat of their own drum.

Through dance, the children not only develop coordination, rhythm and timing, they also learn to respect others and bond together as a group.
KIDSFIRST KINDERGARTENS ARE A NOT FOR PROFIT ASSOCIATION THAT HAS DEVELOPED AND MAINTAINED KINDERGARTENS IN CHRISTCHURCH, CANTERBURY AND ON THE WEST COAST FOR OVER 100 YEARS - AS THE PLACE LOCAL KIDS COME TO LEARN, PLAY AND HAVE FUN.