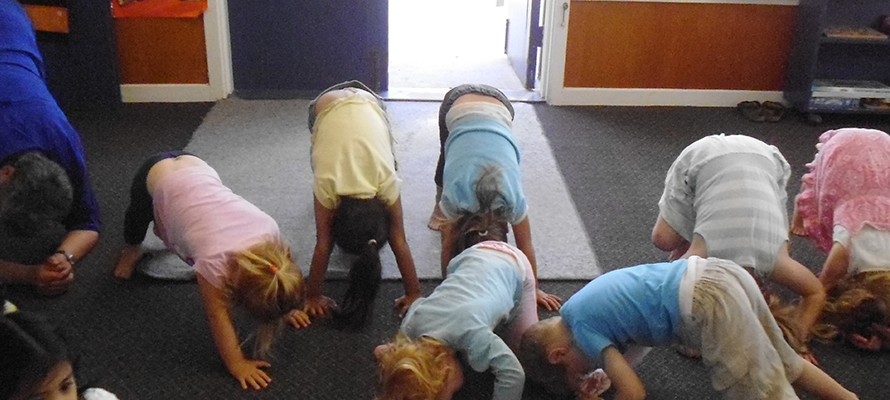 | | | |
| --- | --- | --- |
| | | The tamariki at Kidsfirst Hei Hei stretch into mountain, tree and starfish poses with 'Over the Rainbow' yoga... |
OUR TOP STORIES:

At Kidsfirst it's all about encouraging children's development while having fun.

To inspire calm and mindfulness, Kidsfirst Hei Hei decided to run yoga classes for the children with Over the Rainbow yoga.

Founder, Katharine Louw, specialises in children's yoga and takes classes with kindergartens, schools and community groups in Christchurch.

The playful yoga routines develop flexibility, strength, body awareness, coordination, balance and motor skills. It's a fun, non-competitive and encouraging environment, which promotes calm and mindfulness.

Each yoga class is a new adventure as children take a trip in their imagination with stretching poses, the use of props, music, dance and games. The session involves structured exercise and activities, with the opportunity for spontaneous play and creative expression. Followed by a relaxation time.

"These classes facilitate self-discovery and interaction with other children, and encourage kids to unwind and have fun while they develop body awareness, focus and a sense of well-being," says Katherine Louv.

An engaging story narrative is integrated into each session so it's easy for the children to follow. One yoga class at Kidsfirst Hei Hei took the children on an imagined mountain hike, stretching into the mountain pose and the tree pose along the way.

Another was camping, with a yoga routine to pack the car, set up camp, row the boat (to find the perfect fishing spot), and toast marshmellows by the campfire.

The children have also visualised a beach adventure, where they rode a horse, swam in the waves, put shells on their tummies (to practice breathing) and ended up in a starfish pose.

"This has been a wonderful extension of our gym class," says Teacher Niki Maritz.

In practicing the yoga poses children can learn how to exercise, develop confidence, concentrate better and find ways to feel calmer.

"Children love to move and can sometimes get so hyped up that it's hard for them to sit still for 5 minutes. These sessions help our children to focus on being mindful and grounded in the moment by concentrating on their breathing and relaxation," says Niki.

A focus on emotional well-being is integrated into the classes as well. Giving children the tools to express and process a range of different feelings, helps to build their emotional intelligence. Like learning to cope with difficult feelings through breathing deeply or with positive affirmations.

"One time we focused on how to process feeling angry – we can huff and we can puff to blow the anger out with our breath, in a healthy way," says Niki.

It sounds like some very lovely zen moments at Kidsfirst Hei Hei. What a great way to combine learning, exercise, mindfulness, community and fun!

Practicing yoga is beneficial for children in so many ways:

Essential learning and development through exercise and play.

Children can learn to focus while they have fun.

Stretching improves body awareness and the mind-body connection.

Children use their imagination to discover and explore new places in their minds eye.

QUICK READ

What's a mountain, a boat and a horse doing at Kidsfirst Hei Hei you may ask? These are some of the exercise poses and places imagined during the playful, mindful yoga sessions at the kindergarten, with Over the Rainbow Kids Yoga.

Learning Outcomes

Enhances physical flexibility.
Refines balance and co-ordination.
Develops focus and concentration.
Boosts self-esteem and confidence.
Strengthens the mind body connection.
Beneficial for kids with special needs. Play to the strengths of kids with autism.
KIDSFIRST KINDERGARTENS ARE A NOT FOR PROFIT ASSOCIATION THAT HAS DEVELOPED AND MAINTAINED KINDERGARTENS IN CHRISTCHURCH, CANTERBURY AND ON THE WEST COAST FOR OVER 100 YEARS - AS THE PLACE LOCAL KIDS COME TO LEARN, PLAY AND HAVE FUN.