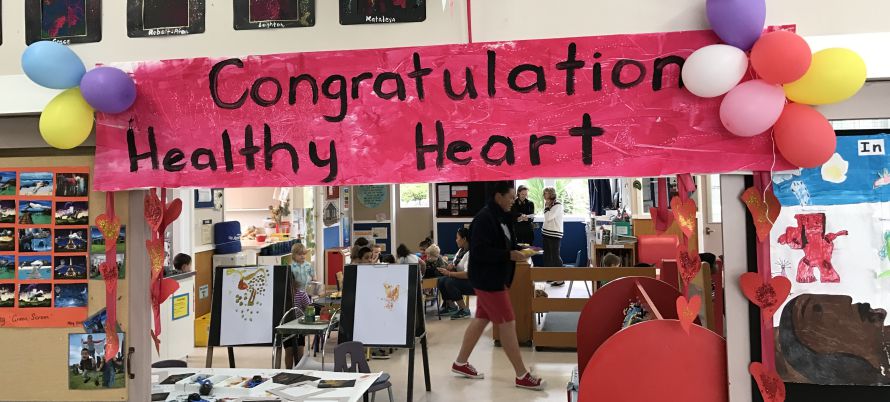 | | | |
| --- | --- | --- |
| | Congratulations to Kidsfirst Hoon Hay for receiving The Heart Foundations highest tier Gold Healthy Hearts award! | |
SOME OF OUR TOP STORIES

Kidsfirst Hoon Hay's Pā-Harakeke (flourishing) award, recognises the kindergartens fantastic hard work to create an environment that promotes healthy food choices and encourages physical activity in their community.

Kidsfirst are enthusiastic supporters of the Heart Foundation's Healthy Heart drive and encourage tamariki and families to take an interest and keep engaged with, the idea of heart health.

Head Teacher Felicity Jenkins says, "It's all about positive communication, we don't want to be the food police but we do want to encourage children and their families to adopt healthy choices."

Part of promoting happy heart choices and getting families on board is a Thursday lunch time initiative (in connection with Rowley Primary school next door), to reduce sugar, fats and packaged food in lunch boxes.

"Parents are invited to come to school and kindergarten to help make wholesome lunches with the children," says Felicity. "Children quickly learn to articulate the language of healthy hearts – saying things like 'I don't want to eat that,' - if it looks like it has too much sugar or salt."

"Also there's the positive influence of peer support - if children see their friends give a new food a try at kindergarten - they're more likely to also have a taste."

A prolific fruit and vegetable garden at the kindergarten does wonders for healthy heart choices too - providing fresh, seasonal bounty for their morning and afternoon tea snack platters.

"We grow all sorts of healthy goodies," says Teacher Cathy Fraser, on a guided tour of their plentiful garden. "We have orange, apple and feijoa trees, a grape vine, raspberry and blackcurrant bushes."

A strawberry patch overflows from its boxed parameters and pops with sun-ripened, juicy red berries – delicious! Growing as well is cabbage, silver beet, tomatoes and crinkly kale (check out the kid-favourite crispy kale chip recipe here). (make kale chips (tip of teachers) Kale chips oil 180 in hot oven, cook til crisp).

"We try to use as much fresh food from the garden as we can and any extra harvest we give to parents to take home," says Cathy. "It's all about reinforcing good healthy heart food choices."

The gold award was presented by Heart Foundation Health Promotion Coordinator, Bek Parry, dressed in a resplendient, shiny red satin heart- shaped dress. Whānau were invited along to share in a delicious, nutritious morning tea and the children hosted beautifully, adding to the real sense of occasion.

"Our kindergarten is a real community touch point for many families and it's all about building relationships," says Amelia Solafuti, who grew up in Samoa and has worked in education for the University of Canterbury before early childhood. "Our whānau and parents feel comfortable here, it's a great meeting place and I can support many of the Pasifika families to translate language and share different ideas like healthy eating."

Great job Kidsfirst Hoon Hay helping to spread the message about what it means to eat healthily and be physically active.
Information including that about fees, services and promotional activities were correct at the date of publication of news stories but may since have changed. Please check with us to ensure information is current.