West Rolleston
Enrolment or waitlist enquiries
Corner of Bethany Road and Granite Drive,
Rolleston,
Christchurch
Kindy webpage
www.kidsfirst.co.nz/WestRolleston
Welcome
Kia Ora
Our Teachers
Kirsten Coppen
Head Teacher
Bachelor of Teaching and Learning (ECE)
Jodie Gould
Teacher
Bachelor of Teaching and Learning (ECE)
Abby Smaill
Teacher
Bachelor of Teaching and Learning (ECE)
Jackie Longson
Teacher
Diploma of Teaching (ECE)
Leeanne Williams
Teacher
Bachelor of Education
Diploma of Teaching
Tegan Dawson McMurdo
Teacher
Bachelor of Education (Teaching) EC

Our Professional Leaders are an important member of our teaching team. Based at Kidsfirst Head Office, they are on-site regularly to observe our programme, give us feedback and professional support, and encourage us toward continuous educational improvement. Please feel free to talk with them about your child's kindergarten/centre experience...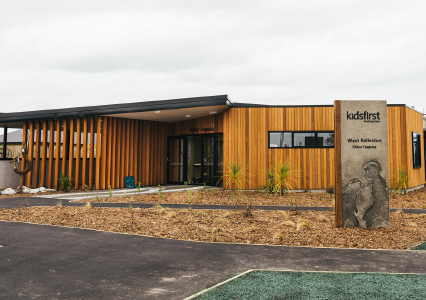 We're so proud of our beautiful, purpose-built early learning place which opened in late 2017. Our kindergarten was designed by Kidsfirst (with some help from the experts) especially for the next generation of Rolleston kindergarten tamariki aged 2 – 5 years!
Deep within every element of the building and landscape, we've woven through Manawhenua values, Kidsfirst values and the principles of Te Whāriki, the national early childhood curriculum. Te Taumutu Rūnanga and our treasured former Kidsfirst Kuia Denise Sheat have been generous in sharing their cultural history and heritage of this place. Like the rocky base of the Rakaia riverbed, this knowledge has become the foundation for the design, and helped us form the basis from which we begin our own story at Kidsfirst Kindergartens West Rolleston. It has been inspiring to see it come to life from the ground up, and to see it filled with the joy and fun experienced by our kindergarten tamariki every day!
Our Hours Are...
Children at Kidsfirst Kindergartens West Rolleston learn in an environment and philosophy of free play that values and supports uninterrupted and sustainable play. Teachers use rich language to provoke and inspire children to develop their problem solving skills and engage within their learning environment. Tamariki here develop working theories, social skills and communication, with support from our qualified and registered early childhood teaching team and are seen as risk takers and strategic thinkers, confident and capable. A strong sense of Manaakitanga (caring and respect) and Whanaungatanga (family, relationships, history, and traditions) are central to our culture.
Our warm and bright inside environment offers a variety of spaces to support and encourage children's learning. Tamariki can access a range of resources that are carefully and intentionally presented to evoke creativity, imagination, inquiry and wonderment. Learning occurs in all spaces at the child's pace. This is an environment supportive of the mana, wairua and mauri our tamariki bring when they come to us. Tamariki are encouraged to be mindful and in awe of the world around them, and respectful of the environment they play and learn in. Children love our large windows, with places to sit and look out to our neighbourhood, see what is happening and keep connected.
A calm yet busy environment exists in our huge outside space, connected to the building by a large, covered all-weather veranda. The playground offers a variety of flexible, adaptable, age-appropriate spaces - a unique play space where children can challenge themselves with the support of our trained teachers. There are lots of different spaces for children to engage in with their peers while building relationships and developing positive social skills. Green grass, barked areas, gardens (which supply produce for our cooking sessions), areas to experience physical challenges, and equipment specially designed to support children's physical growth and development are features. Tamariki choose from and learn to use a range of real resources such as saws, hammers, nails, gardening equipment, spades and shovels. In using this equipment, they learn about managing risk and making safe choices for meaningful play.
Our very large sandpit is hugely popular with all out tamariki. Surrounded by Glacial boulders, the sandpit extends down to a rock river, gravel pit and mud pit which creates lots of opportunities for children to use their imagination and test out their working theories.
Showing manaakitanga (hospitality,respect, generosity and care) in our kindergarten is important to us - and our whānau room brings this to life. It's a community space where families come together and really make it their own, helping parents connect with each other, and with their child's learning – supporting the transition between home and kindy.
We're proud to be part of the Rolleston community. We're often involved in community events, and you'll see our kaiako and tamariki out and about regularly in our town, exploring this magical setting in their role as caretakers (kaitiaki) of our environment. We welcome visits from the Library bus, and from the local police and fire service – all helping to connect our children to the wider community. We are a diverse community and celebrate many different cultures within our programme, using the skills and knowledge from our wider community to enhance our program and extend our children's interests and learning.
Links with our local primary school help to support the transition to school for you and your child, as he/she moves on from kindergarten. At Kidsfirst Kindergartens West Rolleston your child will learn to ask questions about their world, helping them to make sense of it.
Our kindergarten operates for six hours each day, from 8.30am – 2.30pm, including during term breaks. This works really well if you have older children going to school as you can do the drop offs and pick-ups at the same time. We would recommend that you enrol for at least two full days. This gives our teachers time to really get to know your child and gives consistency around supporting their learning. It's hard for our teachers to do this with just a few hours here and there.
Come in and see us any time, we'll make you welcome!
OPEN DURING TERM BREAKS
While we do shut for the Christmas break we are open during traditional term breaks, so your child can come to us throughout the whole year!