Edmonds Smith Street
Enrolment or waitlist enquiries
21 Smith St,
Woolston,
Christchurch
Kindy webpage
www.kidsfirst.co.nz/Edmonds
Welcome
Kia Ora
Our Teachers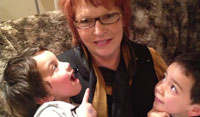 Hilary Waller
Head Teacher
NZ Free Kindergarten Union Diploma
Ursula Salzer
Teacher
Bachelor of Teaching and Learning (ECE)
Teena Warren
Teacher
Bachelor of Education (Teaching) EC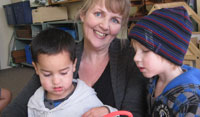 Sarah Yallop
Teacher
Graduate Diploma of Teaching (ECE)
Casey McLeod
Teacher
Bachelor of Education (Teaching) EC
Diploma of Teaching (ECE)
Jane Spiers
Teacher
Graduate Diploma of Teaching and Learning (ECE)

Our Professional Leaders are an important member of our teaching team. Based at Kidsfirst Head Office, they are on-site regularly to observe our programme, give us feedback and professional support, and encourage us toward continuous educational improvement. Please feel free to talk with them about your child's kindergarten/centre experience...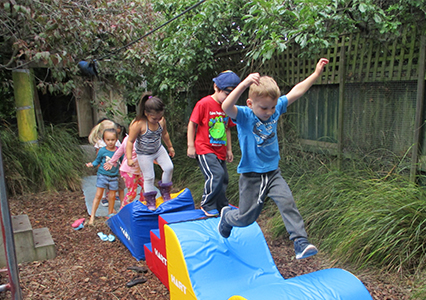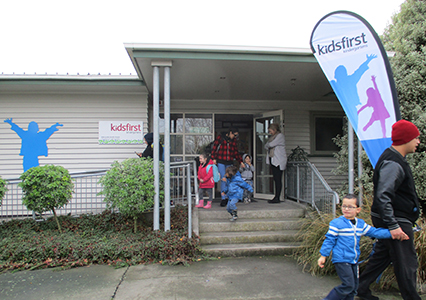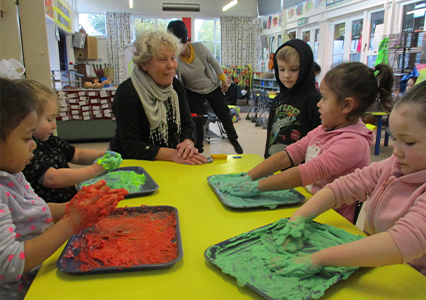 Our Hours Are...
| Session | Mon | Tue | Wed | Thu | Fri |
| --- | --- | --- | --- | --- | --- |
| Full-day | 8:30-14:30 | 8:30-14:30 | 8:30-14:30 | 8:30-14:30 | 8:30-14:30 |
We are able to talk to parents and caregivers most of the time, so please make an appointment if you'd like to do this. EMAIL US HERE
Our Session Times
Your child can come to our kindergarten for up to 6 hours a day, Monday to Friday, during our 4 kindergarten terms.
These terms echo the terms your child will have when they start school.

You can read more here about what's been happening in our archive of stories about Kidsfirst Kindergartens, the fun we have, the processes and learning outcomes that result and why we're such a great start for your child.
KIA ORA
•
TALOFA LAVA
•
MALO E LELEI
•
FAKALOFA LAHI ATU
•
NAMASTE • KIA ORANA NISA BULA • TALOHA NI
•
N
I
HAO •
NAU MAI, TAUTI MAI, HAERE MAI • WELCOME!
You'll find our Kindergarten at 21 Smith Street- just off Ferry Road - in a quiet street, right around the corner from our local schools. We've been part of this neighbourhood since the 1950s, and our families, past and present, are a hugely important part of our kindergarten life.
Our education programme reflects and values the rich cultural diversity of our community, encouraging children to build their self-confidence, develop their own interests and explore a broad range of learning experiences - laying a strong foundation for lifelong learning.
When you enter our Kidsfirst Edmonds Smith St there'll be a warm welcome from our friendly children and teaching team. The inside environment is large, light and warm, beautifully decorated with many examples of our children's wonderful learning and artwork. At Edmonds Smith St, children aged 2 – 5 years have a balance of predictable routine and free play experiences. Tamariki feel comfortable and secure here, soon developing a sense of belonging - this is "their space". We offer a great range of educational resources and defined play areas making it a great environment in which to play, learn and have fun.
Our unique outside environment is a magical garden with lots of natural shade and inspiring spaces for stories, games or quiet times. It's a wondrous space filled with native plantings, ideal for curious learners and creative imaginations. There's a variety of challenging climbing and physical play equipment inviting active exploration. Green grass, barked areas, gardens, climbing trees, and equipment specially designed to support children's physical growth and development are features. Tamariki choose from and learn to use a range of real resources such as saws, hammers, nails, gardening equipment, spades and shovels. In using this equipment, they learn about managing risk and making safe choices for meaningful play.
At Kidsfirst Kindergartens Edmonds Smith St we have a collaborative learning community, where whānau/ families are viewed as significant partners, and are included along our early learning journey. We have an 'open door', approach, and whānau are welcome to stay at any time - community and connectedness is important here. It's at the heart of what we do. Parents and whānau are encouraged to share their ideas, stories from home and participate in the programme in any way they feel comfortable.
Our Kindergarten is very much a hub for our community. Parents meet other families and make connections which last long after their children have gone to school. Many families return to our Kindergarten over generations, having great memories of their own time here. Parents are always keen helpers on our regular explorations and trips out of the Kindergarten and into our community. We have strong links with our local primary schools, which supports the transition to school for you and your child, as he/she moves on from Kindergarten.
The commitment from our team of qualified and experienced teachers is to enrich children's lives in a caring, inclusive and respectful environment. The values of trust, honesty, respect and responsibility are woven throughout our programme. We strive to empower our children to become competent learners, confident to try new things, be creative in their thinking and follow their passions. Our diverse group of tamariki reflect many different cultures and languages which brings a richness to our programme. The close relationships which our teachers develop with parents and families are built on mutual respect and we are strong advocates for our whānau to ensure their tamariki receive the best start on their education journey here at Edmonds Smith Street Kindergarten.
Our kindergarten operates for six hours each day, from 8.30am – 2.30pm. This works really well if you have older children going to school as you can do the drop offs and pick-ups at the same time.
We would recommend that you enrol for at least three full days –building up to five days. This gives our teachers time to get to know your child and build a relationship, and gives consistency in supporting their learning.
Come in any time – we'll show you around and make you welcome!