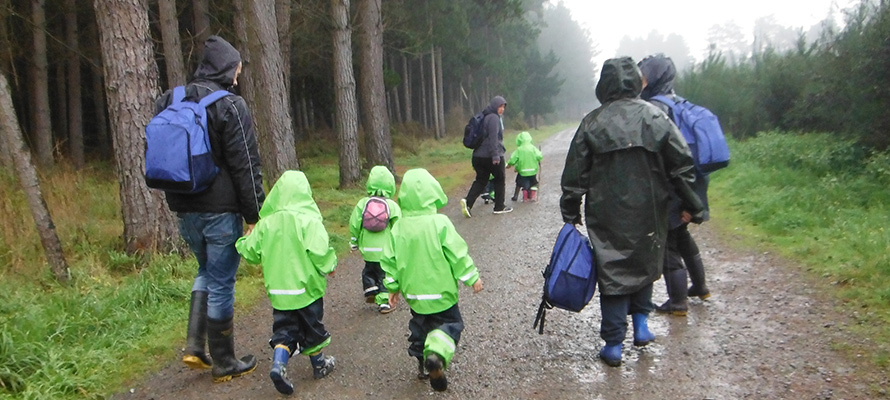 | | | |
| --- | --- | --- |
| | Nothing like getting out and about on an adventure to inspire young minds! There's a big wide world out there, beckoning us on adventures of discovery and fun - and it's with thanks to parent help that it's made possible... | |
SOME OF OUR TOP STORIES

Excursions outside the kindergarten gate, help to foster children's connectedness with the community they live in.

Our kindergarten teachers are only too aware of the difference trips can make in stimulating children's learning and development and are always looking for good opportunities – but it's just not possible without parent assistance.

"We can't do excursions without parent help," says Kidsfirst Maniototo Teacher, Theresa Souness. "Whenever we head out either to the school, the library, walks around our community, or further afield we are so grateful for the assistance of parents."

Blessed with the best of New Zealand's beautiful native forests on their back door step, Kidsfirst Glacier Country Early Learning Centre take regular bush walks and parents and extended family often come along to enjoy some time out in nature too.

"Exploration within the natural environment is a big part of who we are," says Head Teacher, Tracey Hall. "Bug hunting, picnics, climbing on fallen trees and 'being at one' with nature are just some of the many different bush adventure highlights, enjoyed by young and old alike."

Inspired by a comment from a kindy parent that, "Some children may have no experience of 'being' in New Zealand native bush," Kidsfirst Lady May and Kidsfirst Lincoln took a trip to Riccarton Bush in Kahu Road, Riccarton.

Riccarton Bush/Pūtaringamotu is a hidden gem and the only remaining area of dense podocarp forest still standing in Christchurch. Native trees and shrubs such as massive trunks of kahikatea as well as matai, titoki and hinau flourish in this enclosed predator-free area.

It's a great place for young children and families to safely explore. A former Kidsfirst Hornby parent still fondly remembers their kindergarten trip to Riccarton bush;

"I loved being a parent helper when my daughter went to Deans Bush with kindy. She turns seven next week, so it was over two years ago that we went. It was the most amazing experience and I believe the nature programme run at kindy is the reason my daughter is so in love with nature and has such confidence around animals."

We understand the benefits of hands-on learning and it's thanks to parents coming along too that teachers can make trips out and about possible – the bonus being parents see and learn new things too!

Kidsfirst Wigram and Kidsfirst Hornby kindergarten teachers, children and extended family visited Arion Farmpark to learn about lots of different animals farmed in New Zealand like pigs, deer, goats, cows and curious looking white, woolly alpacas. Excitingly they timed it just right to watch a lamb being born!

Kidsfirst Wales Street children, parents and teachers got back to nature with a visit to their local Westlake Reserve as part of Conservation week. They enjoyed exploring the beautiful environment, feeding the ducks (with a wholesome blend of peas, corn, barley and oats) and some mindful sketching.

Run by the Department of Conservation (Te Papa Atawhai), the Conservation Week was themed 'Healthy Nature, Healthy People' and encouraged families to 'get into nature' to raise awareness of the link between a sustainable, natural environment and their own health.

Lots of parents jumped on board to help with Kidsfirst Shirley's family-friendly adventure too - a gondola ride up the Port Hills.

The adventure was inspired by their kindergarten mihi, and so tamariki could learn more about their local winding Ōtākaro/Avon river and the distant rolling Port Hills. After an exciting ride to the top everyone could see where the river meets the sea, and (looking to the other side) could try to picture Lyttelton Harbour as the lava volcano.

A rainy day is no hindrance to a fun day out and about for Kidsfirst Parklands exploring their local landscape thanks to parent help.

The teaching team are so grateful for the regular assistance of parents, "to help us provide our children with meaningful adventures and support our inquiry focus with regular adventures into our local Bottle Lake forest."

We say a big thank you to all of the parents who are able to take time out to join us on our journeys and who help to make such amazing adventures for our tamariki possible – we really, greatly appreciate it!
Information including that about fees, services and promotional activities were correct at the date of publication of news stories but may since have changed. Please check with us to ensure information is current.