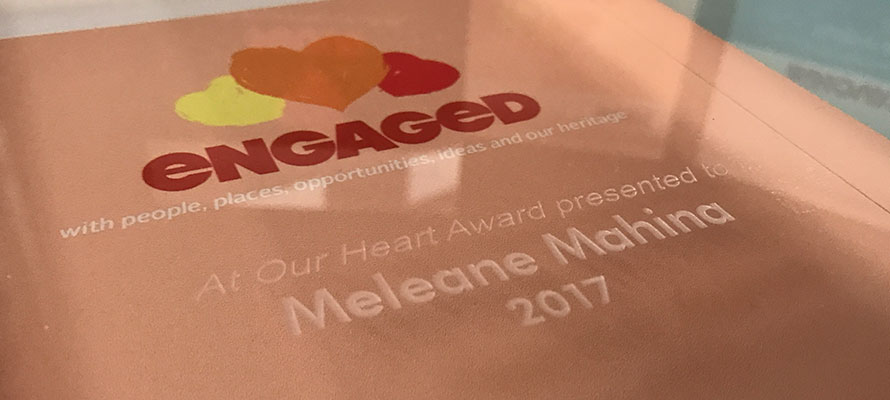 | | | |
| --- | --- | --- |
| | Kidsfirst Kindergartens At Our Heart Awards recognise the kindergartens, early learning centres and individuals who epitomise our core values... | |
SOME OF OUR TOP STORIES

Congratulations to our Engaged Award Winner, Meleane Mahina, recognised in the 2017 At Our Heart Awards, presented at the AGM in May.

Our values are very important to us as an association and we're so proud to be able to celebrate them in this way. The value of Engaged is all about connecting with people, places, opportunities, ideas and our heritage.

"A positive, focused, tenacious advocate for our Tongan families," is how colleagues describe Meleane Mahina, Kidsfirst Niu's Community Liason.

Meleane is a shining example of Engaged, providing huge support for exisiting families and teaching staff during the transition of Niu ELC from the Tongan Canterbury Community Trust into the Kidsfirst whānau.

Meleane's Tongan identity, language and culture are vitally important to her and she was single minded in her determination to find a way to keep the only Tongan ECE service in the South island open for families in Christchurch.

Meleane's connections to the community are vast. Through her role she has sought out families who would otherwise not be involved in education and supported their enrollment at Kidsfirst Niu.

Her communication skills are outstanding. She can engage with young and old, Tongan and Palagi with ease and always in positive and nurturing way. Meleane has continued to engage with the Niu PTA, and is always looking for opportunities to promote Kidsfirst Niu ELC out in the community.

Congratulations Meleane Mahina!

Although we celebrate these values each year with awards and certificates, we know that tamariki, families and communities see the behaviours and commitment associated with our values every day, in so many different ways in all of our wonderful kindergartens across the network. So congratulations and keep doing what you're doing so well.
Information including that about fees, services and promotional activities were correct at the date of publication of news stories but may since have changed. Please check with us to ensure information is current.