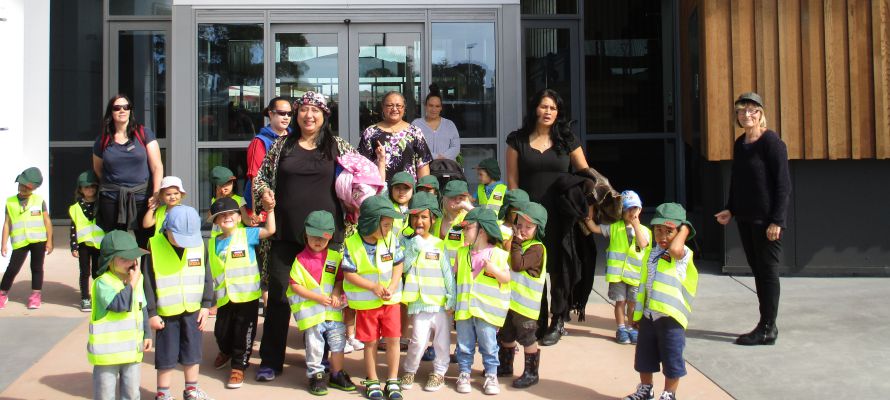 | | | |
| --- | --- | --- |
| | Getting out and about to make and maintain connections with the local community is at the heart of local kindergarten. | |
SOME OF OUR TOP STORIES

Kidsfirst Portsmouth Street kindergarten community were excited to join the opening Pōwhiri (welcoming ceremony) of the new Haeata Community Campus in Aranui.

"The opening of Haeata Community Campus was a very special event and we felt honoured to be invited to attend," says Teacher, Yvonne Ponting.

"There have been many changes within our community over the last year especially, with the closure and merger of four local schools Aranui Primary, Wainoni Primary, Avondale Primary and Aranui High School."

Throughout this time Kidsfirst Portsmouth Street remained consistent and supportive for tamariki, whānau and colleagues and actively got involved in consultation and events around the changing face of education in Aranui/Wainoni.

Haeata – meaning dawn or beam of light – has been built with 21st Century Year 1-13 students in mind to provide a modern take on the traditional classroom with flexible, collaborative open learning 'hubs,' to encourage interactive learning.

"Strong connections to our local community is something we as a teaching team pride ourselves on here at Kidsfirst Portsmouth Street," says Yvonne. "We look forward to continuing to be actively involved with Haeata in the future."

Finding out about one of their local schools were the ten oldest children at Kidsfirst Avonhead who visited Avonhead Primary School to experience what school is like. Another day, the kindergarten took a walk to Merrin Primary School to watch the new entrants perform a dance show.

"Strengthening links with school and within the community, revisiting relationships with children who previously attended kindergarten and a developing an awareness of what is within their community," are just some of the fantastic learning outcomes children gain from these visits, says Head Teacher, Lorraine Stewart.

In a wonderful example of parents going the extra mile at kindergarten Kidsfirst Shirley have a new set of t-shirts, that a parent had printed for them.

"We are using them whenever we go out and about in the community to help advertise Kidsfirst Kindergartens," says Head Teacher, Janette Bowen.

Other outings sporting the new attire included a visit to their local Shirley library to see some members of the Christchurch Symphony Orchestra perform.

"And we've been wearing them on our walks 'around the block' collecting rubbish to help keep our community tidy," says Janette.

And check out Kidsfirst MacFarlane Park with their brand new set of high vis vests all ready for the next kindergarten community adventure.
Information including that about fees, services and promotional activities were correct at the date of publication of news stories but may since have changed. Please check with us to ensure information is current.