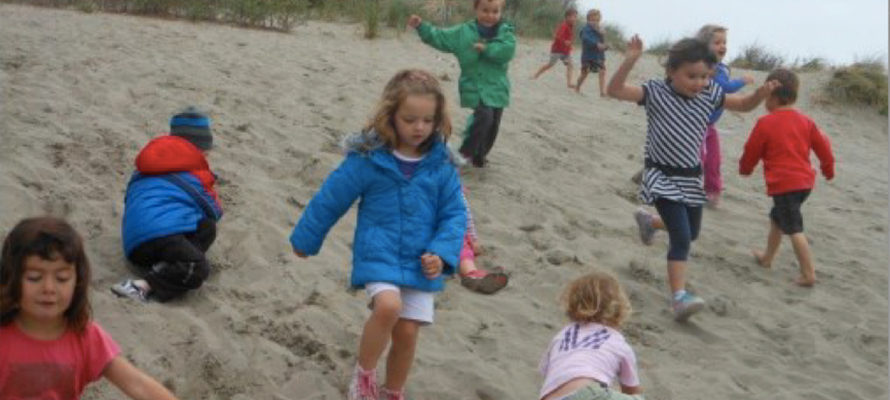 | | | |
| --- | --- | --- |
| | | Taking a trip to Waikuku Beach was a great day out for the children and staff at Kidsfirst Bush Street, with so much to see, learn and do! |
SOME OF OUR STORIES

On the 4th of April, Kidsfirst Bush Street took a journey out to Waikuku Beach. With the support of some parents and whānau who came as helpers, they hopped on a bus and went out to join Lesley Ottie at the Surf Life Saving Club.

Lesley works as the Waimakariri Council Liaison for schools and preschools in recycling - she taught the children about how to keep the sea safe for fish, by taking rubbish home from the beach.

After eating morning tea together and looking at the rescue boats and kayaks, everyone went out to the beach to collect some rubbish.

This was a really practical way of children being able to see what a difference they can make in keeping our world clean and green.

They also collected shells and driftwood to take back to the kindergarten – children were really excited to use these in collages and in their games. They played in the dunes, made sandcastles, played on the playground and ate lunch at Waikuku Beach before heading back to the kindergarten.

Anne Smith, Head Teacher at Kidsfirst Kindergartens Bush Street, said the trip was also to focus on the heritage of the kindergarten, and to "build links and knowledge of the local community."

They learned about their local mountain, Mount Grey / Maukatere, and their local river, Ashley River / Rakahuri, before they left on the trip.

This knowledge of their past was incorporated into a mihi that the children have been learning at kindergarten.

A mihi is a Māori introduction to let people know a little bit about yourself. It tells people where you are from and who you are, linking you to the land (and mountain), river, sea, tribe, sub-tribe, whakapapa and marae.

The children practice their mihi during wa whānau at the kindergarten. It is also used when welcoming visitors and during a more formal welcome at a marae.

What a great experience for the children to have - learning about their Maori history through the mihi, and then getting to go and see it and spend the day there! It's trips like these that Kidsfirst Kindergartens really value.

QUICK READ

The trip to Waikuku Beach wasn't just an environmental exploration... Learning about their past was another way Kidsfirst Bush Street tied in their history to what happens at the kindergarten during day-to-day activities.
KIDSFIRST KINDERGARTENS ARE A NOT FOR PROFIT ASSOCIATION THAT HAS DEVELOPED AND MAINTAINED KINDERGARTENS IN CHRISTCHURCH, CANTERBURY AND ON THE WEST COAST FOR OVER 100 YEARS - AS THE PLACE LOCAL KIDS COME TO LEARN, PLAY AND HAVE FUN.