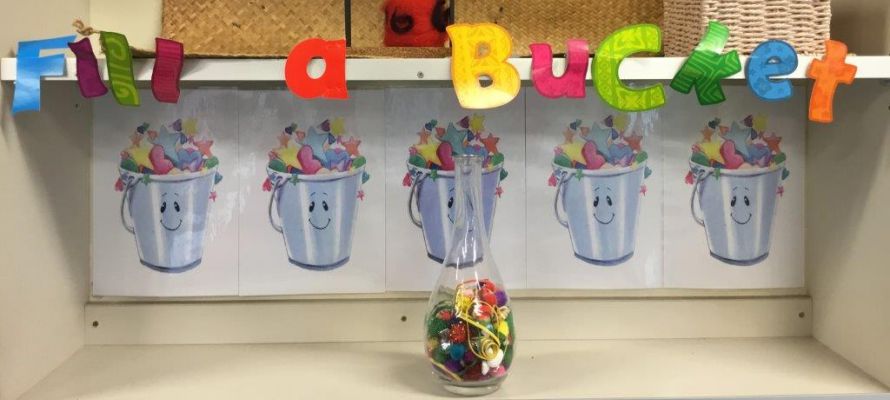 Buckets of Taonga
Every child is special to us at kindergarten. We want to nurture children to be the best that they can be – and also the best to others around them.

FIND OUT WHY WE'RE JUST BETTER BECAUSE...

To encourage buckets of positive behaviour, tamariki at Kidsfirst Belfast have continued to embrace 'filling their bucket' to overflowing with taonga/treasures.

"We actively encourage our children to show good traits such as expressing kindness or working together collaboratively," says Head Teacher, Justine Martin-McKenzie.

"These are examples of positive dispositions that we love to see in both children - and adults."

Each time there is a display of positive behaviour (kindness, thoughtfulness or stretching your brain to learn something new) tamariki are invited to fill up a glass vase 'the bucket' with taonga such as pom poms, rubber bands, stones or shells.

Māori mythological God Maui oversees from the shelf above and is always on the look out for children displaying rangatira - qualities such as helping and teaching others, showing bravery and persisting when things get hard.

"Māori legends based on Maui tell of how he carves out an identity for himself," says Justine. "We link this to the identity that children can build up of themselves as kind, caring and brave learners and provides a 'whole group' picture of success and wellbeing."

"When our 'bucket' is nearly full due to all of our hard work we know we are in for a special surprise! It could be something fun to do at kindergarten or, other times, something really special such as a ride on the double decker bus."

"We've done this for a couple of years and it continues to be something the children enjoy doing."

Tamariki say:

"If we be kind and if we be yourself and you do all that stuff you get a taonga" - Jed.

"When we do something kind we get to have a taonga and when it's all filled up we get to do something special" – Harry.

"If you make good choices you get a taonga and when it's all filled up we go on the double decker bus." – James.

Read about Kidsfirst Belfast's whare blessing here.

.

Kidsfirst Kindergartens
Head Office, 43 Birmingham Drive, Middleton, Christchurch 8024
+64 3 338 1303email: questions@kidsfirst.org.nz
Postal Details: Kidsfirst Kindergartens, PO Box 8089, Christchurch 8440
KIDSFIRST KINDERGARTENS ARE A NOT FOR PROFIT ASSOCIATION WITH OVER 70 KINDERGARTENS AND EARLY LEARNING CENTRES COVERING CHRISTCHURCH, CANTERBURY, CENTRAL OTAGO, BANKS PENINSULA AND THE WEST COAST - AND HAS DONE SO FOR OVER 100 YEARS
- AS THE PLACE LOCAL KIDS COME TO LEARN, PLAY AND HAVE FUN.