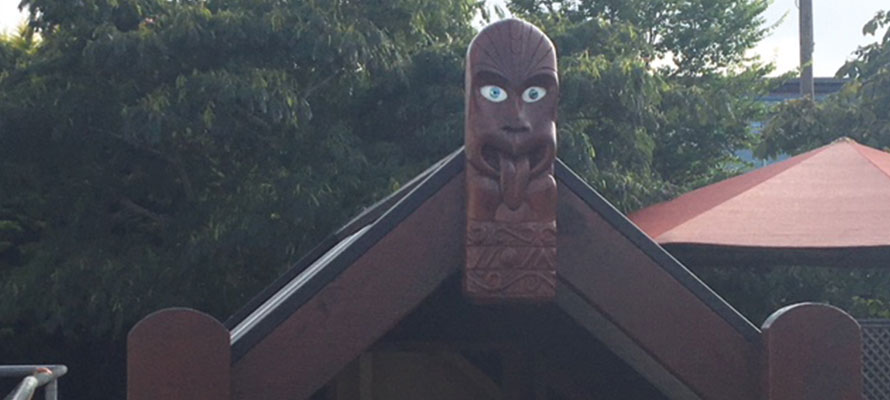 A whare always has a name, ours is Te Whare Tama.
A new whare sits pride of place at Kidsfirst Belfast and reflects the importance and pride we have for our bicultural heritage at kindergarten.

FIND OUT WHY WE'RE JUST BETTER BECAUSE...

Te Whare Tama - the child's house - is the name given to the new carved whare at Kidsfirst Belfast, now a beautiful focal point positioned just inside the kindergarten gates.

Community Matua (Māori elder), Teoti Jardine led a recent blessing of the whare, with extended kindergarten whānau (families) invited along to be part of the special naming ceremony. Celebrations included children's waiata, hongi and shared kai.

"A whare always has a name," says Teoti. "It may be the name of an ancestor or a figure from Māori mythology. The name Te Whare Tama means each child here at Kidsfirst Belfast can feel a sense of ownership and guardianship over their whare."

Teoti adds, "It's truly been an honour to bless this whare, built with ka rika o aroha - the hands of love."

He's referring to the generosity and skill of Kidsfirst Belfast kindergarten father and builder Greg McLaughlin, and his four-year-old son James (currently attending Kidsfirst Belfast) who built the whare together at home, before bringing it in to kindergarten for all to enjoy.

Matua (Māori Elder) Teoti Jardine, leads the whare blessing.

(L to R) Head Teacher, Justine Martin-McKenzie, Teoti Jardine and Teachers,

Alissa Jardine and Abbie Harding.

"This project has been an amazing process and one that has brought all of our whānau (families) together," says Head Teacher, Justine Martin-McKenzie. "We're really proud of it."

She says, "Our children love spending time gathered together in the whare to play, but it can also be a quiet place to sit for contemplation and reflection."

Builder Greg McLaughlin (above, centre) holds his children with the extended kindergarten

community.

Teoti Jardine and Teacher Alissa Jardine are whānau at Kidsfirst Belfast.

Across a network of over 70 kindergartens and early learning centres, spanning Canterbury, Banks Peninsula, the West Coast and Central Otago, Kidsfirst Kindergartens take huge pride in celebrating New Zealand's bicultural heritage.

"Our kindergartens and early learning centres find unique ways to weave Te Ao Māori (the Māori world) into learning every day," says Kidsfirst Chief Executive, Sherryll Wilson. "It's a really important part of who we are."

A growing number of Kidsfirst centres have a whare sitting pride of place in their outdoor environment, as an integral part of what's on offer for children to learn about and explore in their big backyards.

"What's really impressive about Kidsfirst Belfast's whare is the tekoteko (carved figurehead) above the entrance," says Teoti. "This is the first carving Greg has attempted, and he's done a fantastic job."

The tekoteko incorporates three different Kidsfirst motifs that represent kaitiakitanga (guardianship for nature), manaakitanga (care and hospitality) and whai wahitanga (participation).

Kidsfirst Belfast teachers, Alissa Jardine and Abbie Harding, agree that, "Greg and his family are truly a taonga (treasure) in our kindergarten community. They've put so much commitment, time and energy into making something so special for us."

"This is not the first time Greg has made a whare for us," says Justine. "Some of you may remember the flax whare he built alongside the tamariki during a walk in the Styx Mill Reserve, when his daughter Charlotte was at kindergarten."

Te waihanga hononga –

Creating links between people, places and things in the childrens world.

.

Kidsfirst Kindergartens
Head Office, 43 Birmingham Drive, Middleton, Christchurch 8024
+64 3 338 1303 email: questions@kidsfirst.org.nz
Postal Details: Kidsfirst Kindergartens, PO Box 8089, Christchurch 8440
KIDSFIRST KINDERGARTENS ARE A NOT FOR PROFIT ASSOCIATION WITH OVER 70 KINDERGARTENS AND EARLY LEARNING CENTRES COVERING CHRISTCHURCH, CANTERBURY, CENTRAL OTAGO, BANKS PENINSULA AND THE WEST COAST - AND HAS DONE SO FOR OVER 100 YEARS
- AS THE PLACE LOCAL KIDS COME TO LEARN, PLAY AND HAVE FUN.