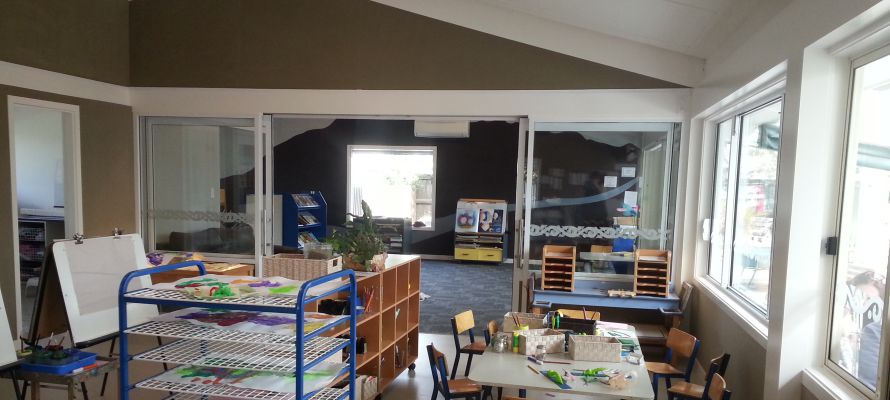 | | | |
| --- | --- | --- |
| | | Kidsfirst King Street are happy to be back where they belong after their kindergarten building strengthening and renovations are complete... |
OUR TOP STORIES

Kidsfirst King Street kindergarten have really enjoyed the change of scene over the autumn and winter months at their temporary premises in the local Southbrook Community Sports Club Rooms.

"We were so very grateful for our time at Southbrook," says Head Teacher, Jocelyn Cameron.

"There was a new playground to explore and the spacious, neighbouring rugby fields allowed lots of team sport ball play, so provided a great opportunties for tamariki to hone those skills."

"We also learnt many things about the community that use the park as well – the model aeroplane club, the petanque players, and that Friday afternoon was rugby day for all the local schools."

"But it's good to be back in our own environment and we are really enjoying settling back in."

"The children were straight back into it and delighted to play in all their favourite spots again - like the sandpit, under the beautiful new shade sail or hooning about on scooters."

They've returned to a kindergarten revamp that includes; room dividing sliding doors, a fresh lick of paint inside and out, new lighting, a renovated storeroom and bathroom (now with a built in change table) and outside, a concrete pathways made accessible for diverse learners.

"The colour scheme is reflective and culturally indicative of where we are. At Southbrook we had a beautiful vista of Mount Maukatere/Mt Grey," explains Jocelyn, "and this gave us opportunities to learn about the the Rakahuri/Ashley river, so these feature on our back wall."

Check out the dark and reflective shades of grey and aubergine for the mountain and the river, while other wall colours have been are inspired by the Canterbury Plains with muted browns and creams.

"We've dressed the kindergarten up with lots of fun decorations too - for our 'welcome back disco' to celebrate our happy return," adds Jocelyn.

Home sweet home. With renovations complete, Kidsfirst King Street have returned to their kindergarten and have a beautiful feature wall.
KIDSFIRST KINDERGARTENS ARE A NOT FOR PROFIT ASSOCIATION THAT HAS DEVELOPED AND MAINTAINED KINDERGARTENS IN CHRISTCHURCH, CANTERBURY AND ON THE WEST COAST FOR OVER 100 YEARS - AS THE PLACE LOCAL KIDS COME TO LEARN, PLAY AND HAVE FUN.