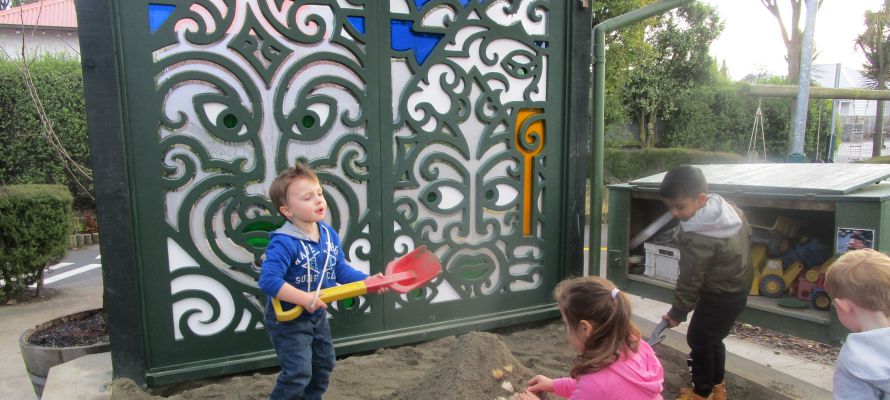 | | | |
| --- | --- | --- |
| | Community connection and spirit filled the air for the unveiling of the beautiful new playground woodlights at Kidsfirst Linwood... | |
SOME OF OUR TOP STORIES

In search of Aoraki is the Maori pakiwaitara (legend) of the (great god) Tu-te-Raki-Whanoa - brought to life in Kidsfirst Linwood's beautiful new playground woodlights.

Following on from extensive mahi around Tu-te-Raki-Whanoa who went in search of his tipuna, Aoraki, Kidsfirst Linwood have further strengthened their Tangata Whenuatanga (place-based education).

Teacher, Su Blacklock, describes the wonderful moment the magnificent woodlights were revealed.

"…voices rang out cross the playground followed by the Te Waka chant of the tamariki, led by Teacher, Clare O'Riley…

…there was excitement in the air as the cameras flashed and whānau and manuhiri (invited guests) were slowly 'pulled' by the tamariki to gather together by the woodlights."

Kidsfirst Linwood have explored the story of Aoraki and his brothers, learning how they travelled in their waka attempting to find Papatūānuku (Earth Mother), only to flounder in a storm.

As their karakia (prayer) failed and their waka overturned they huddled together for warmth. Slowly they turned into mountains to become the tallest peaks of the Southern Alps.

As tamariki have developed knowledge about Aoraki and Tu-te-Raki-Whanoa they have also been enhancing many other areas of their learning.

"Whanaungatanga (relationships) and exploring whakaapa (genealogy, ancestors) have been central to this work," says Head Teacher, Max Apes.

"Everyone has made a contribution – from those who helped to purchase the woodlights (either by grants or fundraising) to the whānau who supplied kai, wonderful cakes and decorations."

"Tamariki worked hard to practice their waiata (song) and haka and showed wonderful wairua auaha (creative spirit) with their artwork used as wrapping paper for the woodlights unveil."

"We could see the pride in both the whānau and tamariki, hear te reo and feel the wairua (spirit, atmosphere)."

Mā te kimi ka kite,

mā te kite ka mōhio

mā te mōhio ka mārama

Seek and discover,

discover and know,

know and become enlightened.

Kidsfirst Kindergartens
Head Office, 43 Birmingham Drive, Middleton, Christchurch 8024
+64 3 338 1303 email: questions@kidsfirst.org.nz
Postal Details: Kidsfirst Kindergartens, PO Box 8089, Christchurch 8440
KIDSFIRST KINDERGARTENS ARE A NOT FOR PROFIT ASSOCIATION WITH OVER 70 KINDERGARTENS AND EARLY LEARNING CENTRES COVERING CHRISTCHURCH, CANTERBURY, CENTRAL OTAGO, BANKS PENINSULA AND THE WEST COAST - AND HAS DONE SO FOR OVER 100 YEARS
- AS THE PLACE LOCAL KIDS COME TO LEARN, PLAY AND HAVE FUN.