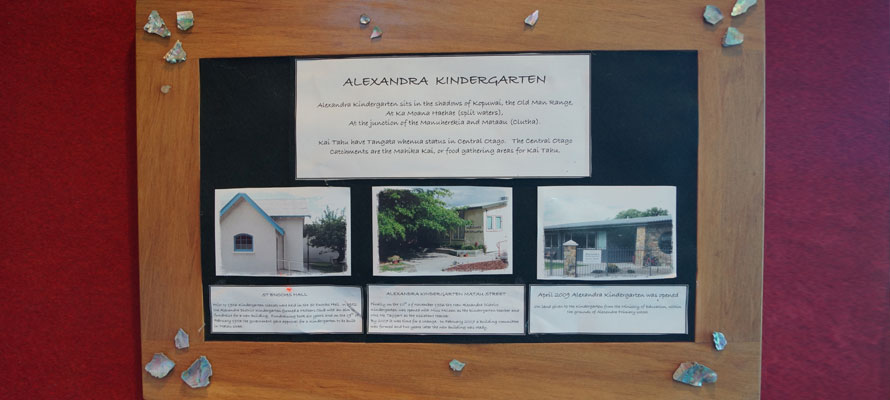 Every kindergarten has a backstory.
Here's a snippet from ours.
OUR TOP STORIES

NEWS FROM AROUND

CENTRAL OTAGO

Kidsfirst Alexandra call a beautiful new kindergarten home (and have done since it was opened in 2009) - but it hasn't always been that way.

The kindergarten sits in the shade of Kopuwai, the Old Man range, at Moana Haehae (Split Waters), at the junction of Manuherekia and Mataau (Clutha).

Kai Tahu have Tangata whenua (people of the land) status in Central Otago. The Central Otago catchments are Mahika Kai or food gathering areas for Kai Tahu.

The kindergarten's story dates back well over 50 years.

In the early years, prior to 1956, kindergarten classes were held in St Enochs Hall (shown below).

In 1952 the Alexandra District Kindergarten formed a Mothers' Club with the aim to fundraise for a new building, which would take the club many years to complete.

On the 19th of February 1953, the government gave approval for a kindergarten to be built in Matau Street.

Finally, on the 10th of November 1956, the new Alexandra District Kindergarten was opened. Miss McLean was the kindergarten teacher, with Mrs McTaggart as the assistant teacher.

By 2007, the time had come for a change.

In February that year, a Building Committee was formed, with the intention of creating a new kindergarten within two years.

The beautiful building was opened in April 2009 on land given to the kindergarten by the Ministry of Education, within the grounds of Alexandra Primary School.

The new building won plenty of praise for its overall design - the way the beautifully landscaped outdoor spaces merge with the indoor areas and its functionality - as well as its approriateness for Central Otago and the challenges of the local climate.

What a great space for the tamariki to come to learn, play and have fun...

QUICK READ

There's been an Alexandra Kindergarten for well over 50 years, but it's changed where it calls home three times.
KIDSFIRST KINDERGARTENS ARE A NOT FOR PROFIT ASSOCIATION THAT HAS DEVELOPED AND MAINTAINED KINDERGARTENS IN CHRISTCHURCH, CANTERBURY AND ON THE WEST COAST FOR OVER 100 YEARS - AS THE PLACE LOCAL KIDS COME TO LEARN, PLAY AND HAVE FUN.