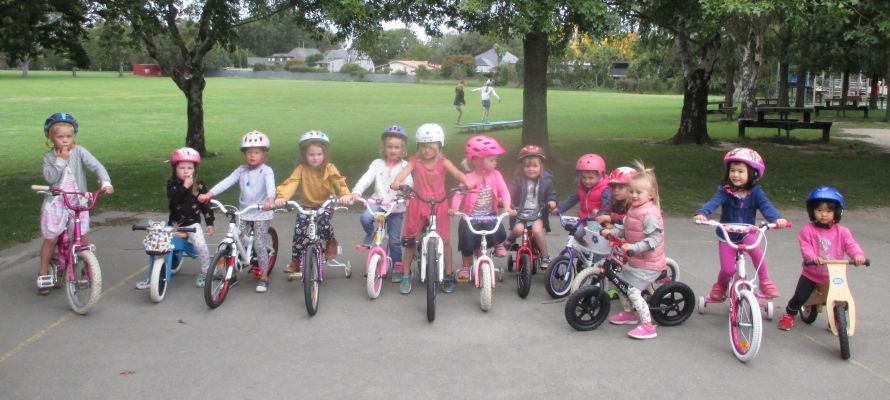 On your bike!
Trikeathon's are a longstanding - fun - fundraising kindy tradition and something that the whole kindergarten community can get involved in.

FIND OUT WHY WE'RE JUST BETTER BECAUSE...

Community involvement is a huge part of the kindergarten experience, and we are always appreciative when parents and whānau give so generously of their time to join in and help out.

The girls took on the boys in a battle of the bikes (and the barbeque) for this years fun trikeathon event at Kidsfirst Ilam.

Parents help out on the barbeque at Kidsfirst Ilam's trikeathon.

Funds raised will go towards ongoing mahi (work) at the kindergarten, since their move back after recent building renovations.

And perhaps some great new additions to their awesome big backyard; a shade cloth, a cover for the sandpit, a new resource/tool box and an upgrade to the garden area at the front entrance.

We say a big thank you to all involved!

Read more about Kidsfirst Ilam's great big backyard.

.

Kidsfirst Kindergartens
Head Office, 43 Birmingham Drive, Middleton, Christchurch 8024
+64 3 338 1303 email: questions@kidsfirst.org.nz
Postal Details: Kidsfirst Kindergartens, PO Box 8089, Christchurch 8440
KIDSFIRST KINDERGARTENS ARE A NOT FOR PROFIT ASSOCIATION WITH OVER 70 KINDERGARTENS AND EARLY LEARNING CENTRES COVERING CHRISTCHURCH, CANTERBURY, CENTRAL OTAGO, BANKS PENINSULA AND THE WEST COAST - AND HAS DONE SO FOR OVER 100 YEARS
- AS THE PLACE LOCAL KIDS COME TO LEARN, PLAY AND HAVE FUN.