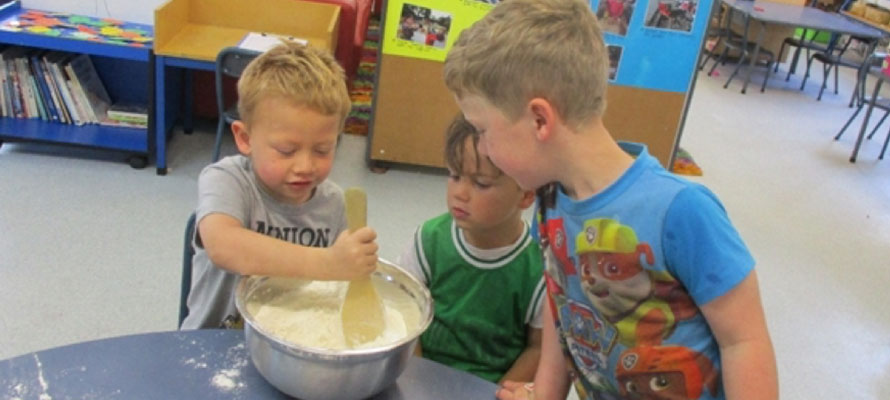 | | | |
| --- | --- | --- |
| | Kindergarten children love the chance to help bake up a storm in the kitchen - and sometimes lucky locals get to share the deliciousness... | |
SOME OF OUR TOP STORIES

Inspired by a bright idea from kindy kid Luka, these little chefs at Kidsfirst Ngaire Larcombe got busy making a batch of hot cheese scones for builders starting work on the new fire station next to the kindergarten.

"When we were cutting out pictures of the new fire station to put on the board, our Luka remembered the last time we baked morning tea scones - for some road workers," says Teacher Zdenka Reading. "And he made the fantastic suggestion to bake for the new builders too."

The children have made scones many times before so this was an easy process for them. They measured the flour, grated some cheese and butter, mixed in some milk and then formed a dough.

The dough was flattened and cut into small squares. The tray full of white cubes was placed into a hot oven and after a short while, beautiful golden scones came out of the oven!

E reka ngā paraoa! (These scones/breads are yummy!)

While the scones were cooling down, the children took turns to whip some cream - some were real whizzes at turning the beater's wheels expertly fast!

Zdenka had been over earlier to ask what time the construction workers morning tea break was and how many people were on site. Come mid morning, a small group of children trooped over to present the workers with a tray brimming with scones, cream and jam for morning tea.

Coincidentally the chief of the fire station was there for a visit that morning too, "so we were able to offer him a hot scone and a cup of tea," adds Zdenka.

The tray was soon returned empty with a big thank you to all the children (who had made short work devouring the scones left back at the kindergarten).

It's nice to share the cooking (and the love) at kindergarten.



KIDSFIRST KINDERGARTENS ARE A NOT FOR PROFIT ASSOCIATION THAT HAS DEVELOPED AND MAINTAINED KINDERGARTENS IN CHRISTCHURCH, CANTERBURY AND ON THE WEST COAST FOR OVER 100 YEARS - AS THE PLACE LOCAL KIDS COME TO LEARN, PLAY AND HAVE FUN.