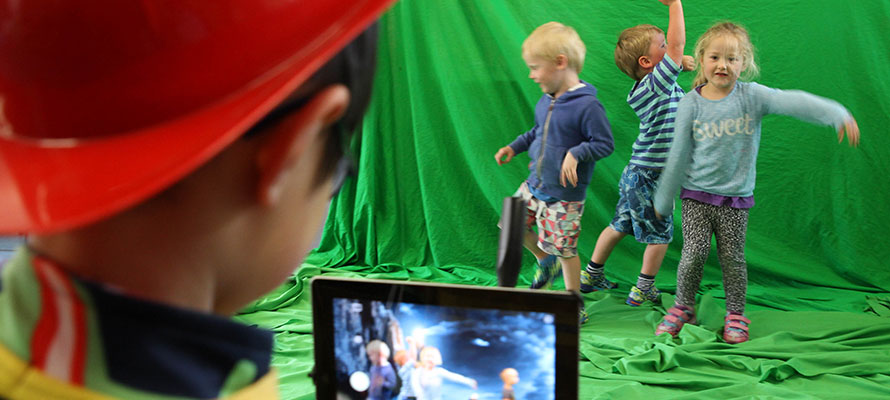 | | | |
| --- | --- | --- |
| | Implementing and using a range of technologies, like ipads, as a tool for enhancing learning and teaching at kindergarten not only reinforces key technical skills for children but increases their engagement – they love it! | |
SOME OF OUR TOP STORIES

At kindergarten we know how important it is for young learners to have time to simply play, imagine and create. But children also need to learn how to use current technology, to be able to thrive in our constantly-evolving twenty-first century world..

Finding a way to integrate creativity, exploration, imagination and technology? Pure genius! And that is exactly what's been happening at Kidsfirst Hawthornden with Relieving Teacher, Peter Fleming, inspired to show children and teachers fun green screen technology techniques as part of their learning.

Using an ipad set on a sturdy tripod, children photographed each other in front of a green screen then utilized a 'chroma key' app to overlay the image of each child onto a different background.

Check out their awesome green screen creations with tamariki making an appearance in their own artwork alongside a princess or a mermaid, steering a plane or train - even riding a dinosaur or rabbit!

Peter explains, "increasingly children are taking control of the process, from setting up the screens, to then opening and finding their way around the app to making decisions about the type of background to use, then directing their friends where to stand or move to get the image they want."

Creating short music video clips has also been very popular. One boy had the idea to dress up in his favourite Superman outfit and superimpose himself flying against the backdrop of different world famous landmarks. His grandparents were the lucky recipients of this snap.

Interestingly, the colour green (or blue) is most often used because these colors are considered to be the furthest away from skin tone and provide a better contrast in the final image. Peter bought a professional photographic green sheet from a camera shop and a couple of extra green bed sheets from Spotlight which are, "not quite the right shade of green but good enough."

"We are not aiming for perfection," says Peter, "it's more about the process of using imagination and creativity - the important bit is working out how to do it and seeing the possibilities and opportunities."

It has really inspired the children and captured their imagination. It doesn't take any great technical skill, children can have a go and succeed straight away, they have quickly cottoned on to the technique and are running with it. Peter initially facilitated the learning but quickly saw ako (teaching and learning) in action with older children soon teaching the younger ones.

There's lots of interest and proud comments from parents who have asked for the app to download so children can continue to tinker and experiment with the process at home. Peter hopes to introduce these fun and easy green screen techniques to other kindergartens that he relief teaches at, throughout the year.

Peter Fleming was former Head Teacher of Kidsfirst Broomfield and is currently a Kidsfirst Relieving Teacher. He was recognised as the Inspiring winner for the 2016 Kidsfirst At Our Heart Awards and clearly he continues to inspire - discovering new ways to be creative and share his knowledge with our young learners and teaching teams.
KIDSFIRST KINDERGARTENS ARE A NOT FOR PROFIT ASSOCIATION THAT HAS DEVELOPED AND MAINTAINED KINDERGARTENS IN CHRISTCHURCH, CANTERBURY AND ON THE WEST COAST FOR OVER 100 YEARS - AS THE PLACE LOCAL KIDS COME TO LEARN, PLAY AND HAVE FUN.